vegan tasty kake goodness.
click for a slice..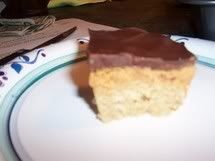 modeled after these babies, that I remember fondly from college summer programs at Marywood University in PA....I was inspired by a veganized recipe version in the vegancooking archives-but I found the original imiation recipe online that I veganized myself with some additional alterations in sugar and oil, and creamed the peanut butter a bit more. I wish I had silken tofu on hand for the peanut butter level, actually. These things are sooo divine and candy-cake-ish (not a word but it fits)!
***RECIPE:
originally ---->Posted by jerseyjan at recipegoldmine.com - May 27, 2001
Mix together:

4 ener-g-eggs
1 teaspoon vanilla extract
1 cup granulated sugar (I used 3/4 cup florida crystals and 1/4 cup light brown sugar)
2 teaspoons apple sauce (instead of oil)

Add:

2 cups flour (I used 1.5 c white and .5 c wheat pastry)
2 teaspoons baking powder
1/4 teaspoon salt
teeny bit less than 1 cup milk

Peanut butter, smooth
1/4-1/2 c. powdered sugar
1 tablespoon soymilk
12 ounces semisweet chocolate pieces
1 tablespoon margarine (or oil, I think margarine works much better)

Beat first 4 ingredients. Add next 4 ingredients. Pour into a greased and floured sheet pan. Bake at 350 degrees F for 25 minutes. Halfway through baking I threw some chocolate chips onto the batter for well..cuteness, I don't know... : )

During this, cream pb, powdered sugar and the bit of soymilk.

When done, Take out hot cake and immediately spread with peanut butter. Refrigerate until hard. (15/20 minutes in the freezer worked for me)

Melt chocolate with the margarine in a double boiler or a make shift double boiler and spread over peanut butter and chill till hard. Cut into squares. I used a makeshift double boiler, soup pot half full of water with a heat-proof wide glass bowl nestled into it. My preppy tough 16 year old brother actually did this part for me, it was great.

Serve to friends and family and wait for sugar rush!