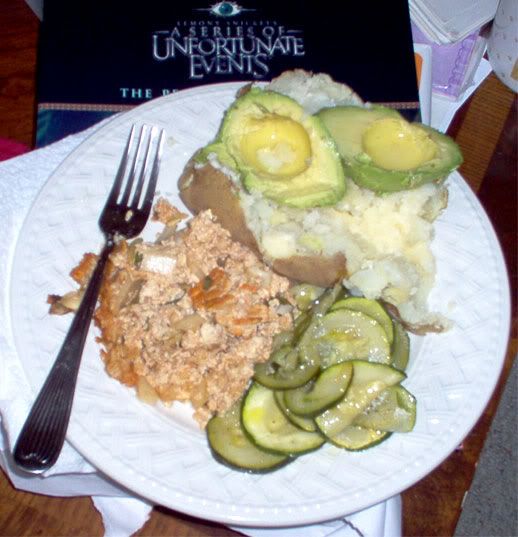 Okay, it's not the best picture in the world, but... It's tofu loaf, that got sorta mashed up, roast zucchini, and baked potato with avocado. And, yeah, call me a giant pigasaurus, but I like to eat a whole avocado all at once... >__>() My answer to making anything better is to put avocado on it... heh...

Anyway, the original recipe for the tofu loaf is here, but I think I came up with a tastier version. I made the original recipe before and it wasn't as good as this latest time I made it... which was very tasty indeed.




My version of Tofu Loaf

Ingredients:

1 medium onion (plus about 1/2 cup scallion greens)
1 cup rolled oats (or whole grain vegan bread crumbs or crushed cornflakes)
1 1/2 pounds tofu, mashed
1/2 cup chopped parsley (didn't have this, so I used about 1 tbs dried parsley in its stead. more parsley would be best, though.)
1/3 cup soy sauce
1/3 cup ketchup
2 tablespoon vegan Dijon mustard
1/4 teaspoon black pepper
1/4 teaspoon garlic powder
(and I added about 1/2 cup chopped mushrooms)
Directions:

1) Preheat oven to 350 degrees.

2) Mix all ingredients together.

3) Press the mixture into a teflon loaf pan (you can spray a bit of PAM/oil)

4) Bake for one hour.

5) Let cool about 15-20 minutes before trying to remove from pan.

6) Slice and enjoy!

This loaf also freezes well - I slice it up then wrap the sliced loaf in wax paper and plastic wrap and stick it in the freezer. I calculated the calories per slice if you were to slice the loaf into 9 one-inch slices (and using the rolled oats): 150 cal/slice.

A few notes:

~It's a good idea to saute the onions a bit before putting the loaf in the oven. If they aren't pre-cooked they come out not quite done all the way. The mushrooms could also be pre-cooked, but I think they came out well enough putting them in the oven raw.

~I may have used too much tofu when I made this recipe, but my loaf always falls apart on me. Maybe it would be best to press the tofu well or else add a few more oats. I suppose adding some powder egg replacer would also help. I don't know how else to keep it from turning into a tofu mush.

~What is the best way to measure 1 1/2 lbs tofu?

Tofu, firm 1 lb =
2 1/2 cups cubed
2 cups crumbled
1 3/4 cups puréed

So apparently, 1 1/2 lbs crumbled/mashed tofu is 3 cups.