Today I made a hot open-faced tempeh sandwich! It's from the Angelica Kitchen cookbook. Angelica Kitchen is on 12th st, ... somewhere east, maybe 1,2,3 aves, in NYC. I forget. Anyway, it's amazing. Here's the recipe:

Tempeh: I cut this in roughly thirds and got 2 servings worth
1 pound tempeh [i used less, maybe 3/4 of a normal-sized package]
1/3 cup olive oil
2/3 cup apple cider or apple juice
1/4 cup soy sauce or tamari
1/4 cup brown rice vineger [i used white rice vinegar]
--notes: this produces way too much sauce

To bake Tempeh:
1. Preheat oven to 350 F
2. Slice the tempeh into 12 pieces, 2x3 inches, 1/3 inch thick [mine were a bit thicker].
3. Arrange tempeh in a lasagna-style baking dish in a single layer
4. Whisk olive oil, apple cider, soy sauce, and vinegar together and pour over tempeh to barely cover [i put a bit extra]
5. Bake for 35 minutes/until marinade is absorbed
---my additions: I also took half a zucchini, sliced it a few times and put it in the pan with the tempth. I cubed some potatoes, added some spices, and added those as well. The potatoes should stay in the oven 15 minutes longer than the tempeh.

Sandwich:
-One serving of Brown Rice Gravy with Roasted Mushroom [see bottom of recipe]
-some spinach or lettuce
-2 pieces of flat long bread that can be cut in half width-wise. the recipe calls for a sourdough baguette but i didnt have any so i used regular sliced italian bread.

Arrangement:
1. Cover the plate's bottom with lettuce/spinach.
2. Arrange the bread in cross. as in, cut the plate into fourths with the bread.
3. Place tempeh atop the bread.
4. Put potatoes into the hole in the center of the plate, around the sides as well.
5. "Smother" with gravy.

GRAVY:
part one: the gravy: [i cut this in thirds, here's the original]
-1/3 cup brown rice flour [i used white baking flour, tasted the same]
-3.5 tablespoons olive oil
-3 cups hot water or vegetable stock
-5 tbsp soy sauce
-some spices

preparation
1. heat water or vegetable stock on stove
2. heat flour and oil in a saucepan over low heat. stir constantly for 5 minutes.
3. whisk in hot water, soy sauce, and spices; boil.
4. simmer for 20 minutes/til sauce thickens.

part two: the mushroom part of the gravy
-10 ounces of mushrooms [shiitake, white cremini, and chanterelle are all fine]
-1 tbsp olive oil
-some salt
-some pepper
-tbsp of minced garlic

preparation:
1. preheat oven to 400
2. dry mushrooms
3. slice mushrooms into thin pieces, toss with oil, salt, pepper, garlic
4. spread in a single layer on a baking sheet; roast for 20 minutes, stir occasionally.
5. add mushrooms to above gravy sauce.

I also boiled some edamame and sprinkled it over the sandwich.

Sorry for having terrible instructions!

Oh, also, since I haven't figured out how to cook simultaneously, this took me like, 2 hours. But it was worth it/I have nothing better to do!

It's sooo good.

The end!

the finished product: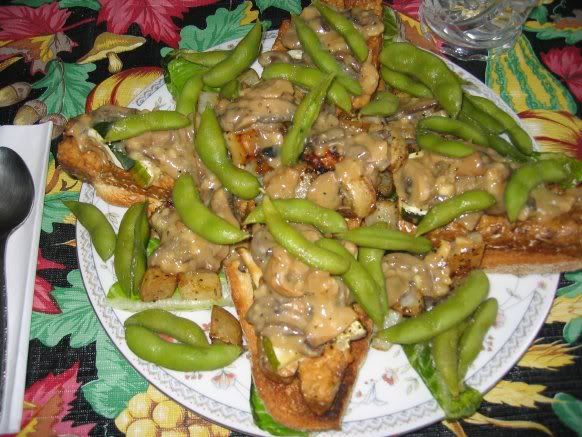 close-up: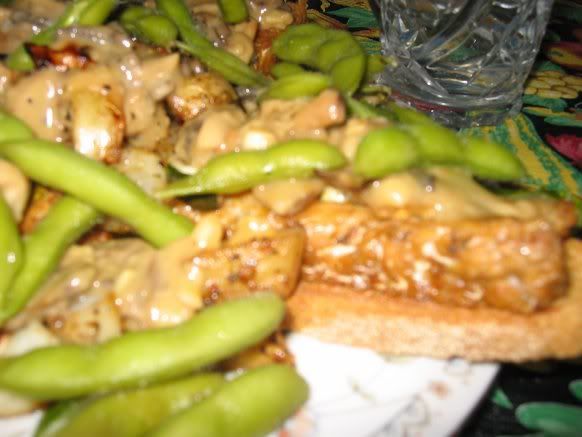 i became full at this point, thus making it a 2-serving meal!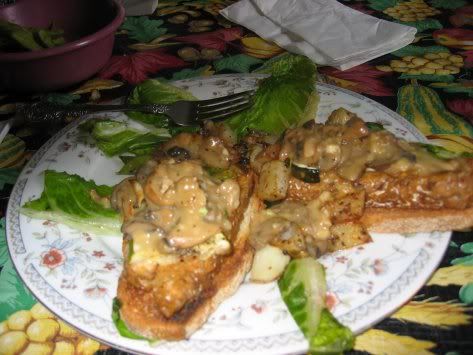 xposted like crazy