On valentines day I made my best friend and my ex a cherry pie. Ooooh we love cherry Pie.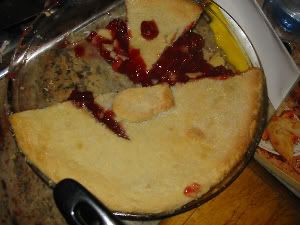 I love this community so much! I shall post the recipe on request :)
-EDIT-

PIE CRUST:
2 Cups flour
3/4 teaspoon salt
3-4 tablespoons cold water
1/4 cup sugar

Sift flour, sugar and salt together in bowl. Cut margarine in small chuncks and blend into the flour by cutting with two butter knives until it looks like course cornmeal. Gradually add water and stir with a fork until evenly moistened. Use only enough to make dough. Roll into ball and cut in half. Roll one half flat and place in greased pie dish. Use other half for lid.

FILLING:
1 Cup sugar
1/4 Cup flour
1/4 teaspoon cinnamon
1/4 teaspoon almond essence
1 can or glass jar of sweet pitted cherrys in water (about two cups worth)

Preheat oven to 425F

In saucepan, combine sugar, flour, cinnamon and undrained cherries. Cook on medium heat until mixture boils and thickens. Remove from heat, stir in almond essence. Pour mixture in pie pastry, and top with pie lid. Either do a lattice top or slice for vents. Close lid with a brushing of soy milk. Top lid with another brushing of soy milk and sprinkle of sugar. Cook in oven for 30-35 min.