i'm quite new to vegan cooking, as my husband just went vegan a little over a year ago. until now, it was boca burgers, chili and veggie soup. the easy stuff. i've decided though that he can't live off those 3 things aline so i've been trying some new stuff out with great results:

lasagna:
one box organic lasagna cooked
a large can of crushed tomatoes with basil
one package of vegan cream cheese
one block of onion and garlic seasoned tofu
one small can tomato sauce
one pack of ground "burger"

-combined the tomatoes, tomato sauce and "burger" in one bowl
-i drained and crumbled the tofu and mixed it with the cream cheese which made a nice ricotta texture. i also added some seasoning (a bit more garlic etc)
-layered the lasagne, "cheese mixture", sauce until all noodles were used

it was very good and the husband was impressed.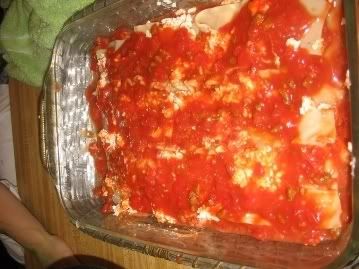 the night before i made a schezuan stirfry using extra firm tofu and fresh veggies. the seasoning was a packet that i picked up in the grocery..and yes it was vegan.