a bit of an asian theme.

kung pao 'chicken', sweet and sour tofu, vietnamese summer rolls, and thai peanut dipping sauce.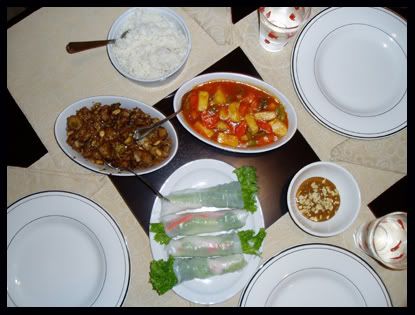 sooo i took the easy way out on this one [and it all tasted soo from scratch.]

kung pao chicken, i bought the kung pao seasoning at my local asian grocers. i used chicken style frozen seitan, stirfried it in peanut oil, added peanuts, 4 stalks of green onions, and seasoning packet mixed with some soy sauce, sugar and water.

sweet and sour tofu, i debated between making this or general tso's [that amazing recipe that's on vegweb] but decided this would be a good contrast to the kung pao.
i battered the tofu in a combo of 1/4 soy sauce, 1/4 cup of water, and some corn starch untill it got thickish. fried it for a bit in 1/2 peanut oil, 1/2 sesame. then drained it, coated it in corn starch, and fried it again untill crispies.
set it aside, stir fry veggies [carrots, green peppers, onions, garlic] add tofu when veggies are almost done.
i used the sweet and sour packet here too [eeeps!]
mixed that with some water, ketchup, sugar and whatever else it called for on the packet. [sweet and sour is super easy to make on its own]
poured it over, and it thickens up real nice! super tasty. add pineapple at the end, just to heat it up.


summer rolls, rice paper, pretty bright green leafy lettuce, carrots, mint, and blanched rice vermicelli. SUPER EASY and so fresh and healthy tasting.

peanut sauce, again, store bought with added homemade touch. i mixed it equal parts store bought sauce with equal parts peanut butter. added some water, added some crushed peanuts to the top.

rice ok, you can figure that out!

Thats all!