They were so yum! They aren't very tall though because I forgot the baking powder. oops. Enjoy!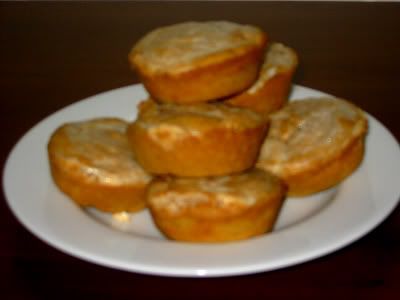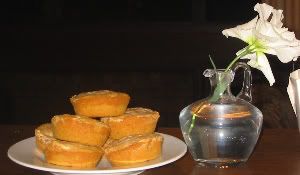 Ingredients
2 eggs worth of egg replacer
1/2 cup of canned pumpkin (I used about a cup of mashed boiled pumpkin)
1/2 cup soy milk
2 tablespoons of vegetable oil or melted vegan marg
1 cup wholemeal flour
1/2 cup wholemeal self raising flour
1/3 cup brown sugar
3 teaspoons of baking powder (this I forgot-which is why my muffins are not very tall)
1 teaspoon ground cinnamon
1/2 teaspoon salt
1/4 teaspoon ground nutmeg

Cream Cheese Filling
6 Tablespoons of tofutti fake cream cheese, softened
1 tablespoon sugar
1 tablespoon soy milk

Instructions
Heat oven to 400 degrees F. Grease bottoms of 12 muffin cups or line with paper baking cups.
Mix egg replacer, pumpkin, soy milk and oil. Stir in remaining ingredients except cream cheese filling. Fill muffin cups 2/3 full.
Divide cream cheese flling among muffins, placing about 1 teaspoon on top of each; swirl with a knife. Bake 20 to 25 minutes or until golden brown. Immediately remove from pan.

Cream cheese filling:
Mix cream cheese, sugar and soy milk till smooth.