Here they are! More piccies in the method :)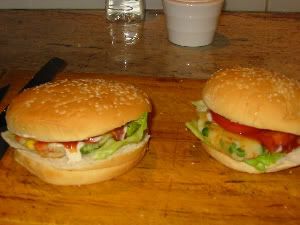 Ingredients:
3 small potatos, peeled and chopped into large cubes
1 small carrot chopped into small cubes
1/4 cup corn kernels
1/2 cup frozen peas
tablespoon vegan butter
little slurp of soy milk
Directions:
Boil all of the veggies till the potatoes are softish (ready to mash). Seperate veggies from potatoes and mash the potatoes- adding the vegan butter and a little soy milk to make smooth but not to soft (you still need to be able to make them into patties). Stir in the rest of the veggies, then form patties with hands on some greaseproof paper.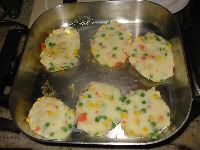 Fry in pan with a bit of oil for quite a while-until nicely cooked on each side. Done! Nice as burger patties!