i got Mash together:
1 cup sugar (not white) and it does not have to be a full cup
1/3 cup vegan margarine
Ripe Banana
1 tsp pure vanilla

In a seperate bowl, mix together:
1 1/2 cup flour (brown rice flour or whichever you prefer)
1 cup Oats
1 cup nuts, seeds, shredded coconut, raisins, chocolate chips, whatever...or
all! (Pretty much any combination of these works)
1/2 tsp baking soda
1/2 tsp salt (optional)
a dash of Cinnamonn (technically optional, but i think it's essential.)
Combine wet & dry then brown for 10 minutes at 350 degrees.recipe from KEJLINA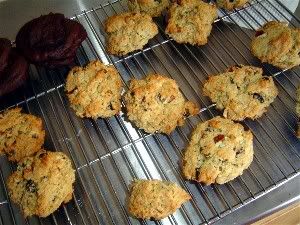 i used raisins and pecans as my mix-ins, and i had to bake them for twenty-two minutes, but that's probably because i made them so big. my oven takes forever to heat up, too, so i usually bake things at lower temperatures since i'm impatient.
this made fourteen big-ish cookies.
they taste like banana nut bread and then some. so so good.
my dad had one and said they were "tasty... very tasty in fact." he doesn't typically like vegan (or even vegetarian) food, so that's just a testament to how much these cookies kick ass.