I made cakes for my mom's birthday, St. Patrick's Day, and my brother's birthday. The latest and best one I think is the pineapple upside down cake I made for my brother. It came out beautifully and very moist and rich. I don't think this particular recipe has been posted here before. I'll say that it's a good one. So without further ado, recipes and pictures.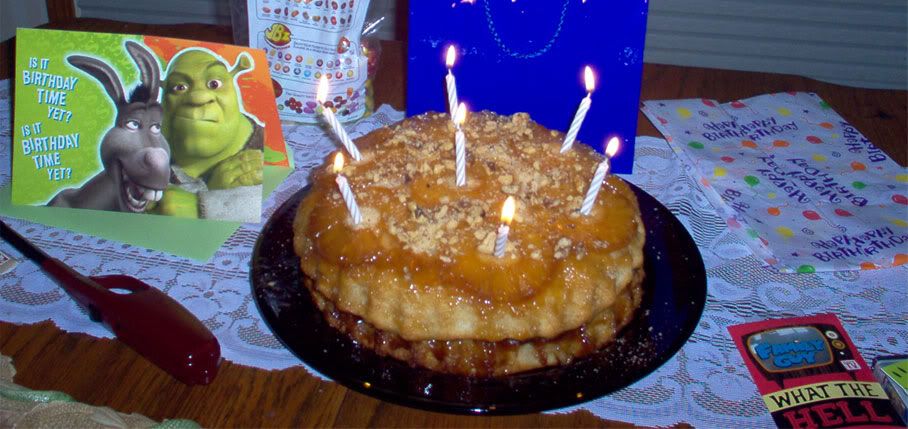 Pineapple upside down cake complete with Shrek and Donkey birthday card. I made two cakes, actually, and staked them ontop of one another here. I baked them in quiche dishes so that's why they look sun-shaped. For some reason most of the brown sugar topping dripped out of the pans and ended up in the oven. I'm not sure how to keep this from happening. I wonder if the pans just weren't big enough, but I thought they were the same as a 9 inch round cake pan. Maybe they were too shallow and I shouldn't have put in quite so much batter. Maybe it would have been best to just make enough batter for one cake and divide it into the two dishes. Anyway...

Here is the recipe from VeganMania.com:

Pineapple Upsidedown Cake

This recipe is soooooo good. Serve it warm if you can. I made it as my Mom's birthday cake, but I doubled the recipe and baked it in two 9" round cake pans, then stacked the finished cakes on top of each other to make a layered cake. A sprinkling of walnut crumbs made it very pretty and extra rich.

1 398mL can of sliced pineapple (15oz can)
4 tbsp melted vegan margarine OR light natural oil (I used walnut oil. very tasty.)
2/3 cup unrefined brown sugar
2/3 cup vegan margarine OR light natural oil
1 cup granulated beet sugar
Equivalent of 2 eggs in egg replacer
2 tsp vanilla extract
2 cups unbleached flour
2 1/2 tsp alum-free baking powder
1/2 tsp sea salt

Preheat your oven to 350F.
Drain the pineapple slices, reserving their juice. In a 9"x9" square baking pan, mix the melted margarine or oil with the brown sugar and 2 tbsp of the reserved pineapple juice. Add water to the remaining pineapple juice to make 1 cup of liquid and set aside.
Arrange the pineapple in the bottom of the pan on top of the brown sugar mixture.
Cream the second amount of margarine or oil with the beet sugar until smoothly blended. Add the vanilla and egg replacer and beat until fluffy. Sift together the dry ingredients and add into the margarine/sugar mixture alternating with the pineapple juice, beating after each addition.
Spoon the batter over the pineapple slices. Bake for 50-55 minutes. Cool for 10 minutes, then invert onto a serving plate and serve nice and warm. Don't forget to put the crumbled walnuts ontop.

And here are Green Velvet Cake and Unbelieveable Vegan Chocolate cake that I made in March:





Probably the greenest cake ever to exist on planet earth. They were both good, but I made the mistake of using whole wheat flour in them (don't ask how that happened, I don't know) so they came out grainy. The recipe for red velvet cake is in the recipe index of the community and unbelievable vegan chocolate cake is here. Yes, it really is unbelieveable.