hey, i'm katherine. i'm new. i love vegan cooking.
recently i just made...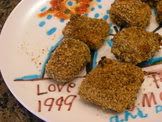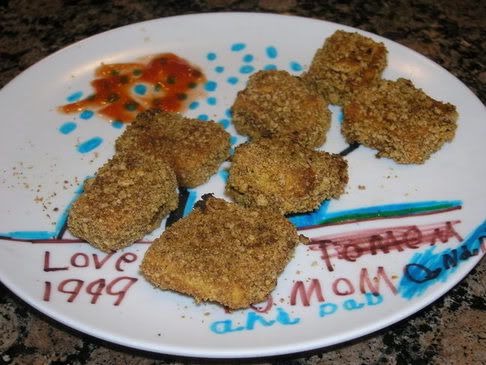 barbeque tofu nuggets, modified off of this post.
these "chicken nuggets" were so good. wow. i wish i had enought time to make them everyday. these were extra spicy-- the way i like them, but if you don't like spicy food you could tone down the marinade or bbq sauce.

you need:
-one block firm tofu
-one can of vegetable broth
-one box of shake n bake or homemade shake n bake substitute
-herbs and spices to taste [i used garlic powder, onion powder, paprika, and pepper]
-vegan barbeque sauce

to do:
-drain tofu WELL. i pressed my tofu for about forty-five minutes. try to get as much water out as possible.
-cut into bite size chunks, place in baggie and freeze. i froze mine for two days.
-let tofu thaw, and place in marinade of herbs/spices + vegetable broth. let sit in marinade for a half hour to an hour.
-preheat oven to 450 degrees.
-press the excess marinade out of the tofu.
-dip the tofu in the barbeque sauce [USE LIBERALLY!] and then the shake n bake.
-bake for about 15-20 minutes, turning once halfway.

THESE ARE SO GOOD. THANK YOU lifexgoesxon FOR THE RECIPE!