I made the ginger snaps in How it All Vegan today, with a few modifications...


My modifications -
I added a cup of chopped almonds, and I didn't have any maple syrup, so I used corn syrup and maple flavoring. I also added 2 Tbsp of ground ginger because I didn't have enough fresh.

Also,
I doubled the recipe, 'cause it says in the book that it makes 6 large or 12 small cookies.

Apparently small is gigantuous in How it All Vegan land.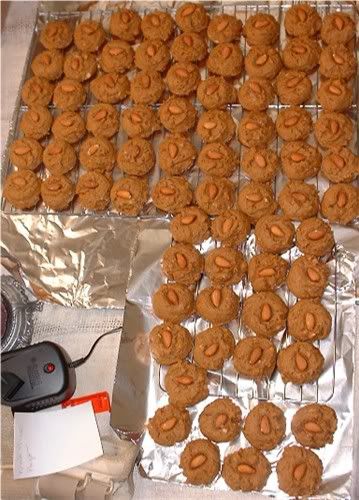 That's 78 cookies, plus 4 that were eaten before I took the picture.

Closeup: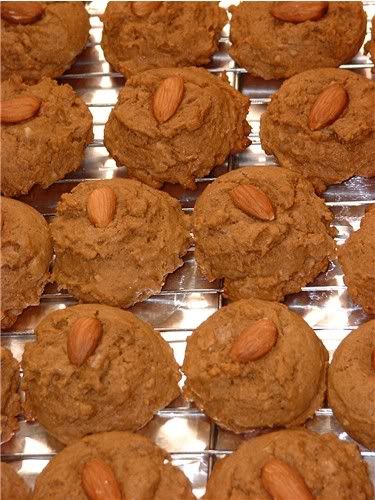 Recipe:

Ginger Snaps
2 1/2 cups flour
1 tsp baking powder
1 tsp baking soda
1/2 tsp salt

3/4 cup maple syrup
1/4 cup molasses
1/2 cup oil
5 Tbsp fresh ginger, grated

(I doubled this and added 1 cup chopped almonds)

Preheat Oven to 350. In a large bowl, stir together flour, baking powder, baking soda, and salt. Add maple syrup, molasses, oil, and ginger. Stir together gently until "just mixed". Scoop spoon-sized portions onto a lightly oiled cookie sheet and bake for 12-15 minutes. Makes a gazillion cookies. (They said 6 large, 12 small)

I used a mini ice cream/cookie dough scoop, so each cookie was 2 or so Tbsp, and baked up about 2-2.5 inches diameter. I ended up with a whole lot of cookies. :)