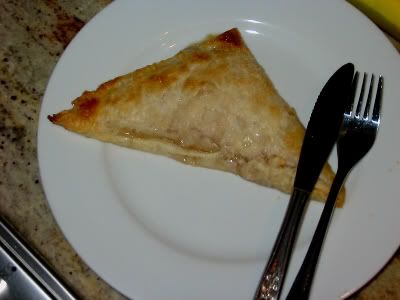 Ingredients:
1 Sheet puff pastry (vegan of course)
1 green apple (i used red but hey!)
2 tablespoons sugar
2 teaspoons cinnamon

Directions:
Set oven to 190 C
Cut pastry into triangles (or squares, depending on size and shape of your pastry)
Peel and core apple,then slice into very thin slices. Put a few slices of apple in the corner of the pastrys. Sprinkle apple with sugar and cinnamon
Should look something like this: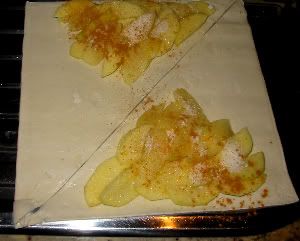 Fold over into neat triangles, the seal edges with a fork.
Prick hole in top of pastry, the sprinkle a little sugar on top.
Place on greased baking tray and cook for 20 min~
Easy and yummo!!!