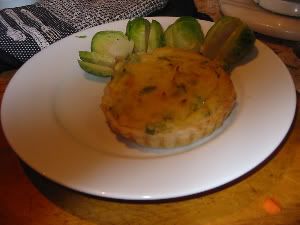 This is my mums recipe. It a very rough one cuz I made little tartlets instead of a big tart this time :)

Ingredients
2 sheeps puff/filo pastry or pie pastry
1 finely chopped leek (I used 3 shallots because we had none)
2 potatoes, boiled till mashable
little bit vegan butter and soy milk for the mash
can creamed corn
tablespoon or 2 vegan mayonaise

Fill pie dish with pastry, then mash potatoes with a little milk and vegan butter. stir in creamed corn and leek, then add mayonaise. Put in oven for about 30 min on 170 C or until brownish on top and pastry cooked.
Its really yummy and different.