Same kinda ingredients as last night, but different food- a lunch box snack! yummy warm with vegan butter!!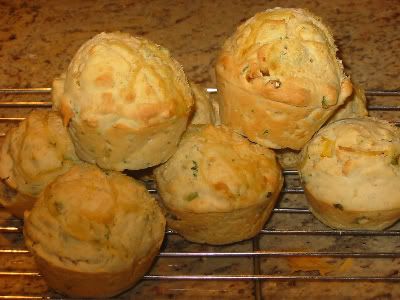 1 1/2 cups Wholemeal Flour
1 1/2 cups plain flour
2 teaspoons baking powder
1/2 cup finely chopped parsley
3 tablespoons tofutti cream cheese
half cup corn kernels
half cup finely chopped shallots
freshly ground black pepper
1 eggs worth egg replacer
1 3/4 cups soy milk
extra fake parmesan cheese or grated soy cheese

Preheat oven to 200°C. Mix the flours, baking powder, parsley, parmesan cheese, bacon and pepper together. Make a well in the centre and add the egg and milk. Lightly combine, taking care not to over-mix. Spoon into greased muffin pans and sprinkle with the extra parmesan. Bake for 10-15 minutes or until golden brown. Cool and store in an airtight container.