First, I will use this opportunity to say that almost a year after moving out of my mom's house and having no food processer, I finally have one of my own. I got the Magic Bullet (I know, lame right?) and it works amazingly. The only problem is the juicer attachment kind of sucks (I reccommend if you only need one buying it at Target or Walgreens for $60 instead of buying it from them for $139, the only reason I got it from them was that I also needed a blender and second system). One of the nice things about is that, being the only vegan where I live, the small container size lets me make my stuff seperately, rinse it out quickly, and then make the other person's.

Second, I made an amazing "cheese"cake that took practically no time at all. Here's the recipe: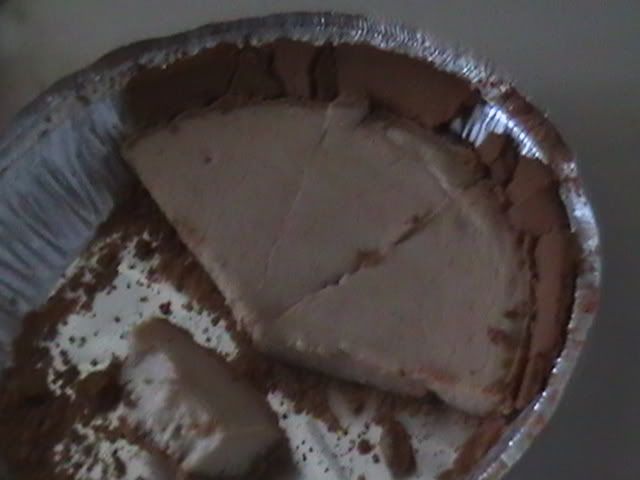 (I'm not the best photographer, but you get the picture)



1 (8 oz) container of Tofutti
1 banana (or egg replacer for 2 eggs of some kind, but the banana gives it a nice flavor)
1/2 cup dry sweetner (I used raw sugar)
1 graham cracker crust ( bought mine but you could make your own with the recipe from How It All Vegan p.141)
1 1/2 cups graham cracker crumbs, 2-3 tbsp oil, 3 tbsp water, dash of salt
In medium bowl, mix together all ingredients. Press the mixture evenly onto the botomo fo a pie plate or cheesecake pan using your fingers or back of spoon

+Preheat oven to 350
+Mash banana either by hand or in food processor (I forgot and just put everything into the food processor and it turned out fine, it just took a little longer & I had a harder time fitting the Tofutti in)
+Add all ingredients (minus crust) into food processor (if your using the Magic Bullet use the tall cup & cross blade)
+Pour ingredients into crust
+Bake at 350degrees F for apx 25 minutes (until set)
+stick into the fridge for at least an hour (preferably 2 or 3) and serve!

I can imagine using 1/2 a lemon's worth of lemon juice would make this particular cheesecake absolutely amazing</center>

And on to my question which was the main reason why I made this post. Although the Magic Bullet is good for a lot of things, the juicer attachment is kind of crap. I want to start eating more raw and part of what would definately help is a good juicer. The Jack Lalanne Power Juicer looks good (no, I am not an infomercial junikie, the Magic Bullet was my first time) but I want to get some 2nd and 3rd opinions about what kind of juicers you guys use? What would you recommend? I found the JLPJ here for apx $100 which seems way better than what they offer on the original site. I really want a juicer that will give me the most juice for my fruits and veggies and last a long time.