Creamy white wine sauce on mushroom, Leek & cream cheese ravioli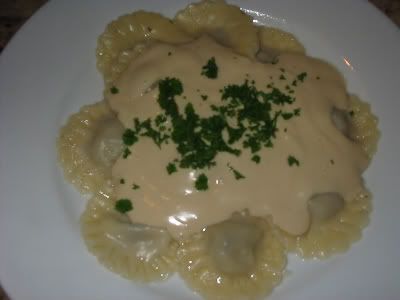 and
Creamy white wine sauce on semi-sundried tomato, garlic and leek ravioli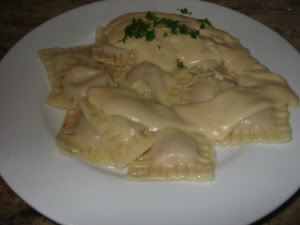 Thanks for the filling ideas people! Yummm I love this stuff so much!


Pasta:
2 cups plain flour
pinch salt
teaspoon olive oil
1/4 to 1/2 cup water, slowly added

Just stir in all ingredients, add water as u need it but knead dough lots and keep fairly dry. Then roll flat out and either pass through pasta maker till thin or roll till thin. Cut into squares or circles.

Mushroom Leek cream cheese filling:
Slice about half cup of mushrooms with a good handful of finely sliced leek. Cook in frypan with a little olive oil. Blend with prossesor or cut more finely, and stir through tablespoon or so of tofutti cream cheese. Done!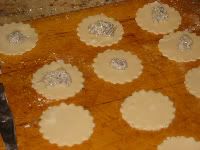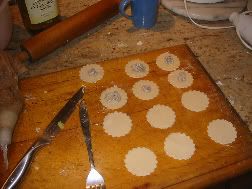 Sundried tomato, leek and garlic filling
SLice a handful of semi-sundried tomatoes, add a handful of finely sliced leek and 2 cloves crushed garlic. Cook lightly in frypan with olive oil. Process or chop even more finely.

Put fillings in middle of raviolis and brush with a little water, closing with a fork.
Cook for about 3 min max in boiling, salted water.

Creamy White wine sauce:
tablespoon vegan butter
cup soy milk
heaped tablespoon flour
3/4 cup white wine
half vegie stock cube
salt to taste
tiny slurp soy sauce
large tablespoon tofutti cream cheese.

Stir all ingredients over low heat, adding more soy milk if nessary. Sauce will thicken. Take off heat and add chopped parsley.