I just purchased the Vegan Chef's online book--Eat Your Veggies. Does anyone else have this? What are your favorite recipes from it?


Also, Thanks for all the ideas for Gordon's birthday cake! He absolutely LOVED it! I ended up making him a two layer cake. The bottom was vanilla with a ton of whole blueberries mixed in, then, there was a layer of blueberry jam, a top layer of chocolate cake, and I mashed up some blueberries and juicy blackberries into powdered sugar to make a pretty/yummy blue/purple icing. And, it was topped with fresh blueberries. He's still talking about it, a week later!




I know I took a picture of the inside, too, but I can't find it. If any one really wants to see it, let me know, and I will.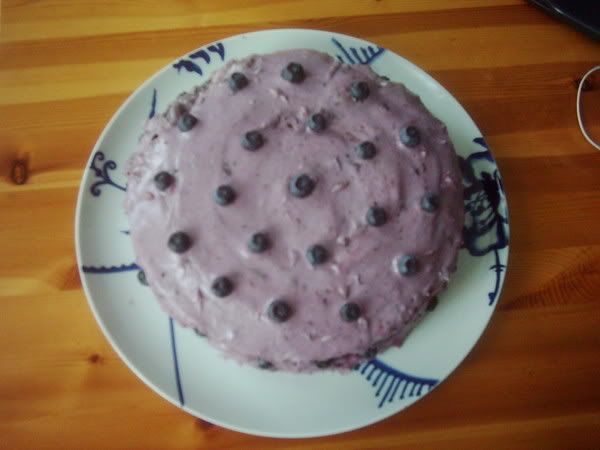 Oh! Also, I had a dinner party for my Dutch class this past Friday night. I made: spicy black bean burgers with spicy almond sour cream, pumpkin seed crusted tofu (that I found on vegantestkitchn), corn muffins, biscuits, avocado salsa, regular salsa, tabbouleh salad with quinoa, a big salad with orange shallot vinaigrette, coconut curry stir fry, spicy stir fry with mock duck, portobello mushroom bake (from the garden of vegan), and some other odds and ends. And for dessert, a strawberry rhubarb pie, and Chocolate Almond midnight (http://www.bakerina.com/prepare_to_meet_your_bake/2005/05/no_eggs_were_ha.html) with cashew cream and raspberry sauce. Everything turned out great and everyone loved everything and took home leftovers (thank god). I wish I had pictures, but it was too dark to take them. Anyway--I really recommend the baja black bean cakes and green chiles and almond cream cream. They're both from the Vegan Chef. (http://veganchef.com/ I can't link straight to them.)