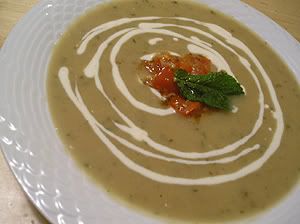 i made this yesterday for the
vegan_cookoff competition. i thought i'd share it here because i just had another bowlful today and it tastes really yummy.. even better today since the flavours had longer to blend. the flavours go very nicely together and this soup works very well chilled (better than warm since i tried it both ways).

i came up with it because i love eggplant dips and wondered what it would be like if it was something like a soup instead..

soup ingredients:
olive oil
1 large purple eggplant
half of a large vidalia onion, chopped (can probably use more too)
3 cloves garlic, minced or crushed
about 2-3 cups vegetable stock or water (better to add less at first and then add more to reach a consistency you like after pureeing - it should be fairly thin since it's a chilled soup, but not too thin or you won't taste the eggplant!)
about 1/4 c chopped fresh mint leaves (or to taste - how minty do you like it?)
about 1-2 tablespoons lemon juice (or to taste - should just be a hint of lemon-y sourness)
salt to taste
a sprinkling of cumin (but also to taste)

cut the eggplant in half, drizzle the cut sides with olive oil and roast the eggplant in a 400 degrees F oven until soft (about 30 minutes? i forget now). let cool until it's cool enough to handle with your hands.

saute onions and garlic in some olive oil (i like to use lots) until onions are soft. add cumin and mint leaves. remove eggplant flesh and dispose of the skin - add flesh to pot and cook for a few short minutes more over low heat.

add water or vegetable stock and turn up heat for a few more minutes. with a food processor or blender (i like the ease of hand blenders!), puree mixture until smooth. add lemon juice and salt to taste and stir.

put soup in fridge for a few hours to chill and to allow the flavours to blend. (note: you can also make the soup the day before and it will taste better.)

in the meantime (well, right before you are ready to serve the soup), make the roasted tomato topping and lemon-yogurt coulis:

chop up a tomato and in an oven-safe bowl or dish, mix tomato with some olive oil, 1-2 cloves of crushed or minced garlic, salt and pepper. put in 400 degree oven until tomato is slightly soft and roasted (about 15 minutes? i forget). keep warm.

for the coulis, mix 3 tbsp of soy yogurt (or vegan sour cream) with 1 clove of crushed garlic (or some garlic powder) and 2 tsp lemon juice. you can also add a bit of lemon zest for more lemon flavour. mix well with a spoon. if the yogurt is too thick to drizzle, just add a bit of water until it's of a thinner consistency, otherwise, it will just sink in gloops into the soup.

to serve the soup, ladle the chilled soup into bowls and drizzle lemon-yogurt coulis over top. add a spoonful or more of tomato topping in the middle (i used a soup plate rather than a bowl so it didn't have far to sink and still showed up on top) and garnish with a mint leaf. enjoy!