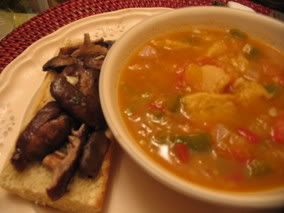 SPANISH GARLIC-TOMATO SOUP

ingredients:
4 tbsp olive oil
1 onion, chopped
3 garlic cloves, crushed
1 green bell pepper, chopped
1/2 tsp chilli powder
1 lb tomatoes, chopped (i used half red and half yellow)
8 oz (or 1 cup) of French or Italian bread, cubes
4 cups vegetable stock

1. heat the oil in a large frying pan and add the onion, garlic and bell pepper. saute the veggies for 2-3 min. or until the onion has softened.
2. add the chilli powder and tomatoes and cook over a medium heat until the mixture has thickened.
3. stir in the bread cubes and stock and cook for 10-15 minutes until the soup is thick and fairly smooth.

with GARLIC MUSHROOMS ON TOAST

ingredients:
6 tbsp vegan margarine
2 garlic cloves, crushed
4 cups mixed mushrooms, sliced (i used button, oyster and shiitake... i think)
8 slices French bread
1 tbsp chopped parsley
salt and pepper

1. melt the margarine in a frying pan. add the crushed garlic and cook for 30 seconds, stirring.
2. add the mushrooms and cook for 5 minutes, turning occasionally.
3. toast the French bread slices under a preheated medium grill for 2-3 minutes, turning once.
4. move the toast to a serving plate
5. toss the parsley into the mushrooms, mixing well, and season well with salt and pepper to taste.
6. spoon the mushroom mixture over the bread and serve immediately.