Another of my entries in vegan_cookoff -man I hope I win for my ravioli!!!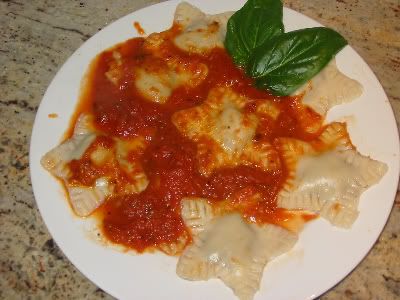 STARS!!! I am a star girl!
♥

Make pasta as in http://www.livejournal.com/community/vegancooking/1386118.html#cutid1
Cut into stars with star shaped cookie-cutter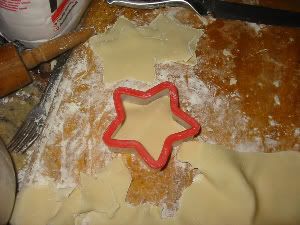 Filling:
Handful mushrooms, chopped finely
2 cloves garlic, crushed
teaspoon salt

Fry ingredients on medium heat until garlic is see-through
Transfer to bowl, stir in 2 tablespoons tofutti cream cheese.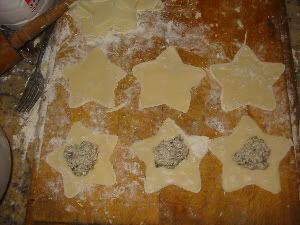 Put heaped teaspoon of filling into the middle of half the stars, wet the other halves and use to top ravioli. Press closed with a fork.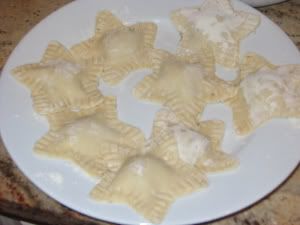 Sauce:
2 cans chopped tomatoes
tablespoon olive oil
2 cloves crushed garlic
heaped teaspoon vegan butter
salt to taste
teaspoon dried thyme
teaspoon dried rosemary
teaspoon dried basil
teaspoon dried oregano
2 chopped fresh basil leaves
1/2 cup vegan red wine

Simmer all ingredients on medium heat for about 20 min.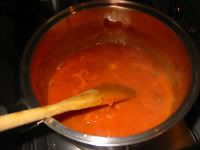 Place star ravioli in boiling salted water for 3 min max, then lift out with holed spoon. Take napolitana sauce off heat, stir in a handful of chopped parsley and serve on top of ravioli.
Yummo!!!!