Yummo dessert or breakfast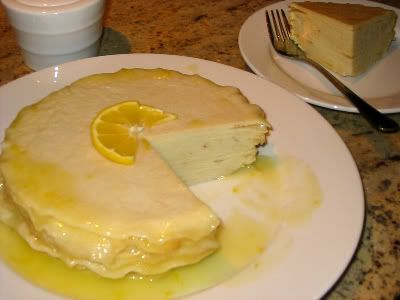 Line base of a round tin with plastic wrap.

Double my crepe recipe here: http://www.livejournal.com/community/vegancooking/638051.html
Make 12 crepes. (eat the left over ones hehe!)

Combine:
2 teaspoons finely grated lemon rind
3/4 cup lemon juice
1 1/2 cups sugar
6 eggs worth of egg replacer, whisked
125g vegan butter, chopped
put all in a heatproof bowl above a saucepan of simmering water; cook, stirring about 15 min or until lemon curd coats the back of a spoon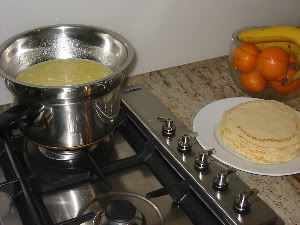 Mix two teaspoons of Lieber's vegan gelatine with 2 tablespoons hot water from the kettle. Add to lemon curd mix and stir in.

Place one crepe in prepared pan and spread with 1/4 cup lemon curd. Continue layering with the rest of the crepes and curd, finishing with a crepe on top. Cover and refrigerate overnight or until firm.

This was a recipe for the 'Wicked Sweet Indulgences' cookbook that I veganised. It was so so SO yum.