For those of you who've never heard of toasted ravioli, local legend holds that a busy chef was trying to prepare some ravioli, but in his haste threw it into a pot of oil instead of water. The result is an admittedly yummy (albeit non-vegetarian) local dish you can get at pretty much any bar and grill in St. Louis as well as in the freezer case at the grocery store. They're coated with seasoned breadcrumbs and served with marinara sauce for dipping. I missed these like crazy, and I just got me a kiddie pasta machine I've been itching to use, so I decided to give them a try.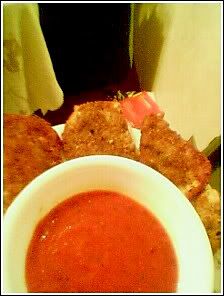 The recipe is pretty much totally from scratch, and a little time-consuming, but I thought my results were worth it. You could probably use a lot of shortcuts if you can get ravioli and breadcrumbs at the store or already have them at home, in which case skip to just after the pasta recipe for tips on breading and frying.

This actually consists of three smaller recipes that can each be used in other dishes. The filling is mushroom-based; the pasta recipe comes from this page; and the breadcrumbs evolved out of the grocery store's lack of dairy-free breadcrumbs.

First, you'll probably want to make your filling and let it drain.

Filling:

-One 8-oz package of fresh baby portabello mushrooms, diced
-2-3 handfuls of fresh spinach leaves, finely chopped
-1-2 cloves garlic, pressed and chopped and all that good stuff
-1 tablespoon olive oil
-Italian seasonings to taste (I used generous amounts of sweet basil, oregano, parsley, sage, rosemary, salt, and pepper)
-vegan parmesan (optional)

Chuck the diced mushrooms and olive oil into the food processor and puree. You'll want them as smooth as possible for a more authentic texture; the beef that traditionally is found in toasted ravioli is very smooth, not at all grainy. Next, add your spinach and garlic and whirl until well combined. Stir in your seasonings (and parmesan, if you like). Then, in some way, because I didn't do it, lay a piece of clean muslin or other thin cloth over a bowl and scoop the mushroom filling onto it to drain. Set aside while you work on your breadcrumbs.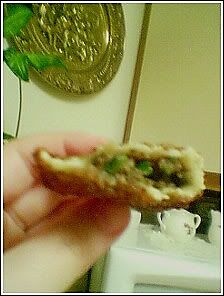 Feeble attempt at a picture of the filling. It was a nice mushroomy brown with little specks of bright green spinach.



Like I said, I couldn't locate vegan breadcrumbs, so I made my own.

Breadcrumbs:

-one 8-oz baguette
-one tablespoon Good Seasonings dry Italian dressing mix (from a packet)

The baguette was fresh, so I baked it for about 10 minutes at 350 just to get the outside a little crustier and crunchier--you can do this while making your filling. After letting it cool, I tore it into small pieces and added it to a clean, dry blender (or food processor) until crumbly, then added somewhere around a tablespoon of the dressing mix and made sure it was well-combined. Then I added the crumbs to a dry skillet and toasted over medium heat until they were crunchy and just slightly brown, and put back into the blender again to grind them as finely as possible. Pour into a shallow bowl and set aside.

And for the ravioli "skins"...

Pasta:

-about 1 1/2 cups of fine semolina flour
-1 teaspoon salt
-1/2 cup warm water

Combine the dry ingredients, then make a well and add the water. Mix well with your hands, turn out onto a semolina-dusted surface, and knead until smooth and not sticky. Set your pasta machine to the thickest setting--mine's is somewhere around 1/8 inch, I'd guess--and roll out small pieces, laying them flat on your work surface. I actually made my pasta before anything else, so it had time to dry out a little; depending on the order you make everything, it may or may not affect your results.

To assemble your ravioli: take a rounded teaspoon of filling and place between two adequately-sized squares (or trapezoids, or flat blob shaped thingies, like mine turned out) of dough, then pinch all the way around to seal shut. Presumably, to bread non-vegan ravioli, you'd whisk together egg and milk, so here's a vegan version of that concept:

-unsweetened nondairy milk of your choice (I used unsweetened Silk)
-some Ener-G egg replacer

Pour the soymilk, maybe 1/3 cup, into a little bowl, then add a teaspoon or two of Ener-G and combine well to get a sort of thickened soymilk. Pour a thin layer over the bottom of a plate, and dip your ravioli into that on both sides to coat the whole piece. Then dip the ravioli into your breadcrumbs, making sure to cover it really well--you want to absorb the soymilk and completely cover the pasta dough. Repeat with all your ravioli. You may need to prepare more of the soymilk-Ener-G combination, depending on how many ravioli you were able to make.

The ravioli are fried, but not all uber deep-fried, so pour maybe 1/3 inch of your preferred cooking oil into a frying pan. You really only want enough to half-submerge the ravioli, because when they're swimming in a sea of oil, the breading has a tendency to float away. For this reason, you also want to establish a good, steady, medium temperature for your oil. If they have to sit cooking too long and the oil doesn't immediately bind the breadcrumbs in place with heat, you'll lose them. Which is totally no fun. So, fry them about 30 seconds or until a deep golden-brown on each side, using a slotted spoon. Let drain and cool on paper towels.

Heat up your favorite marinara sauce for dipping and serve with warm toasted ravioli and maybe a bit of soy parmesan. And a really big yummy salad. Huzzah!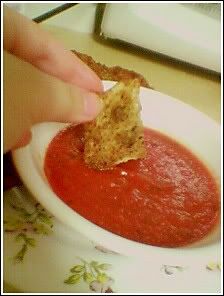 HOW TO EAT ZEM!!!