I'm sticking this here so I can just copy and paste when the post to post entries in this week's
vegan_cookoff comes up.



Filling:

-Approx 8 cups veggies, chopped
I used:
(from the garden)
1 small zucchini
1 medium summer squash
Green, Yellow, and Purple string beans
1 small eggplant
1 each green and purple peppers
(from the store)
1 onion
large handful spinach
handful baby carrots
-1/2 cup chopped fresh chives and parsley
-2/3 block tofu, frozen and thawed, cubed
-1/2 cup soy sauce
-3 T cornstarch
-2 cups water
-1/2 cup nutritional yeast flakes
-1/2 T each garlic powder and basil
-dash each cumin, cayenne, oregano
-1/2 to 1 tsp salt

Crust:
-1 1/2 cups whole wheat flour
-1 cup corn meal
-1/4 cup ground flax seeds
-1/4 cup soy powder
-1 tsp baking soda
-1 tsp baking powder
-1/2 tsp salt
-dash garlic

-1/4 cup olive oil
-1 1/4 to 1 1/2 cups water
-1 T mild vinegar

Thaw tofu, but do not drain. Add 1/2 cup soy sauce to marinate.

Saute veggies in a bit of oil until tender, put into 12x12x3 lightly oiled casserole.

Drain tofu, but save liquid. This should produce about 2/3 to 3/4 cup liquid, if tofu liquid is included with soy sauce. Toss tofu, chives, and parsley, along with any other desired fresh chopped herbs, in with veggies.

In the same skillet veggies were cooked in, (really just to save dishes) stir 3 T cornstarch into soy sauce tofu was soaked in, until there are no lumps. Mix in garlic, basil, cumin, cayenne, oregano, salt, and any other desired spices. Stir constantly on low heat until mixture thickens. Stir in nutritional yeast, simmer a few more minutes, then mix in with veggies until they're well coated.

Right about now, heat the oven to 350F.

In large mixing bowl, combine dry crust ingredients well. Mix in oil and water until sticky, and barely spreadable. Quickly mix/fold in vinegar, then spoon in dollops onto veggies and gently spread out as evenly as possible. Sprinkle with corn meal and paprika if desired.

Bake for 30 to 35 minutes until crust is golden brown and a toothpick inserted into just the crust comes out clean.

Enjoy!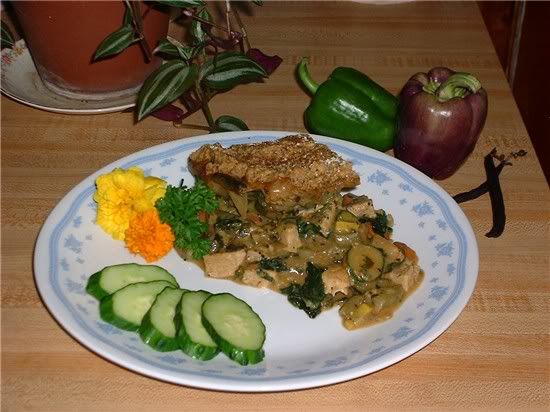 EDIT: Ack! I thought I was posting this in my own journal! Ah well, I'll leave it, I was going to share it here after the week's contest, anyway. :]