I made the most awesome dessert last night. It's based on the recipe for Coconut Cream Pie from How It All Vegan, but kind of different. You should make it. It is so good. Possibly the best thing I have ever made.



Crust

2 cups rolled oat flakes
1/4 cup margarine, softened
½ cup sugar

Preheat oven to 350 degrees. In a bowl, mix all the ingredients together. Press the mixture evenly into the bottom of a pie plate. Bake for 10 minutes. Leave the oven on. If you want a crust that will stick together better, you could try putting the oats in a food processor first.

Filling

2 packages firm silken Mori-Nu tofu
½ cup canola oil
1 tbsp vanilla
½ tsp salt
1 ½ cup sugar
1 cup shredded unsweetened coconut
1 cup fresh raspberries

In a blender or food processor, blend the tofu, oil, vanilla, salt and sugar. Pour into a large bowl and fold in the coconut, then the raspberries. Pour filling into the crust. Bake for 30 minutes or until the filling looks set and the center is firm. Put in refrigerator to chill.

Chocolate topping

1/3 cup chocolate chips

Melt the chocolate chips on low heat. Use a whisk to drizzle chocolate over top of chilled pie. Keep the "strands" or chocolate thin so the pie will be easy to slice. Chill.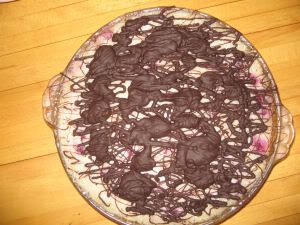 I put way too much chocolate on mine. It's hard to slice. Don't do that.