I discovered that my supermarket sells vegan frozen shortcrust pastry so I had to celebrate and make a cherry pie...with a lot less work than usual!!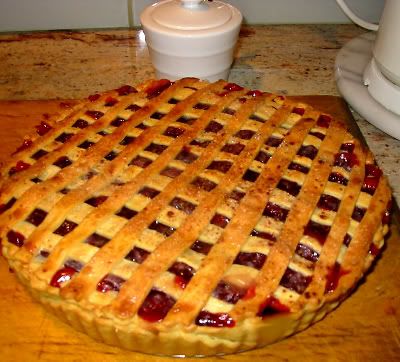 Ingredients
1 large jar pitted cherries in liquid
1 cup sugar
1/4 cup flour
2 tablespoons cornflour
few drops almond essence
pastry (shortcrust)
little bit of soy milk
sprinkle sugar and cinnamon

Preheat oven to about 200 C
Combine cherries, sugar and both flours in saucepan on low to medium heat. Stir constantly until thickens. Take off heat and stir in almond essence.
Fill greased pie dish with pastry and then fill with cherry mixture. Cover pie with more pastry and brush soy milk on top, and sprinkle with the sugar and cinnamon. Cook in oven for 30-35 min until crust is brown.
My friends ate it before I could take a piccie of the singular slices!