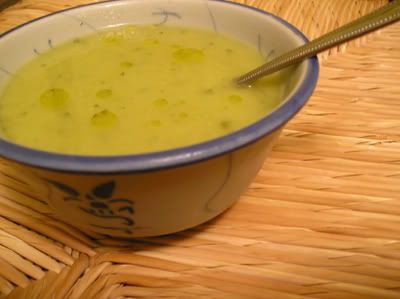 i just made this today and it's really good! just the right hint of sweetness (from the peas), garlic (very subtle but just barely enough to accent the other flavours), mint (subtle but still noticeable), and lime (the slightest hint).


1 medium onion, chopped
2 cloves garlic, minced or crushed
a couple cups of water
a couple cups of frozen green peas (but not as much as the water)
salt & pepper, to taste
a handful of mint leaves, chopped (you can adjust this to taste)
juice of half a lime (but you can add less - adjust to taste)
olive oil

saute onions for a few minutes, then add garlic and saute until both are soft. add mint and stir for another minute. add peas, water, salt and pepper. cover and let cook until water boils. puree until smooth (i used my handheld immersion blender - nice and easy!) - it should not be a thick soup, but not thin like water either. if it's too thick, just add some more water (or soymilk) and re-season with salt & pepper if necessary). add lime juice and stir. cover with lid and put whole thing in the fridge for several hours until chilled. before serving, put soup through through a fine strainer to remove pea skins so the texture is nice and smooth.

i served mine with a drizzle of olive oil, but i think a dollop or swirl of gremolata on top (mixed with olive oil to drizzle) would also be nice (you can even try making it with mint instead of parsley but in that case, i'd suggest making the mint pureed in your soup itself very subtle). garnishing with a mint leaf on top would look nice too but i didn't have any left. also, i was gonna add some unsweetened soymilk along with the water but i forgot!