Today is my birthday so I had to make some carrot cake!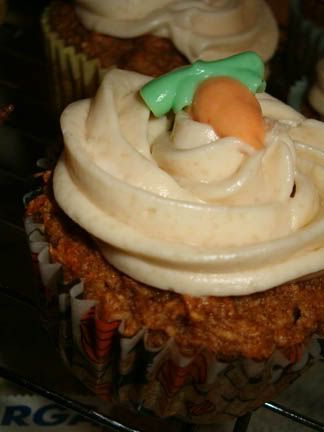 Carrot Cake

1 1/4 cup flour- I used whole wheat spelt and some whole grain pastry flour
1 tsp baking soda
1 tsp cinnamon
1/2 tsp allspice
1/2 tsp baking powder
1/2 tsp salt
3/4 cup sugar- I used 1/2 cane and 1/4 brown
1 tsp vanilla
1 1/2 egg equivalent- ener-g
1/3 cup soy margarine, melted
2 cups grated carrot
8oz can of crushed pineapple, drained
2/3 cup chopped walnuts
1/4 cup grated coconut

Preheat oven to 350. Mix flour, baking soda, cinnamon, allspice, baking powder and salt. In another bowl mix sugar and egg replacement until creamy. Add vanilla and margarine. Combine wet and dry ingredients together and add carrots, pinapple, nuts and coconut. Pour into muffin tins and bake for about 20-25 minutes.

"Cream Cheese" Frosting

1 package tofutti cream cheese
1/3 cup soy margarine, softened
1 tsp vanilla
3/4 cup sugar

Stick it all in a bowl and beat with an electric mixer.

This recipe was soooo good. I don't like tofutti on it's own and was skeptical about the frosting, but it turned out amazing.