I've been cooking stuff recently, using a lot of fresh produce.
mmmmm.
pictures + recipe-ish things.



so this first one is my variation of the 7-vegetable Moroccan couscous from the latest edition of VegNews magazine. This is what I got with MY version of the recipe.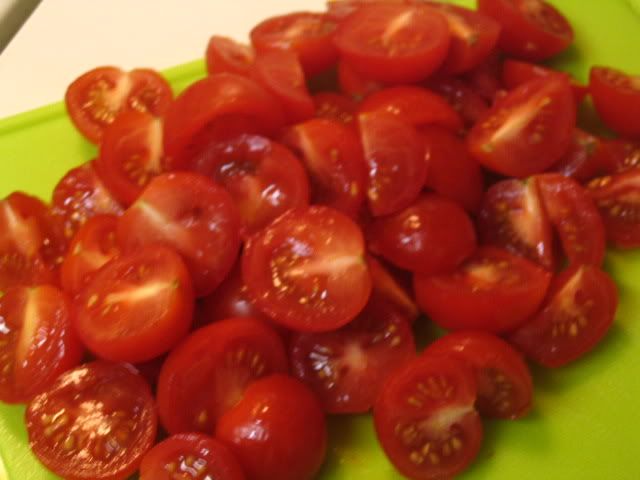 halved cherry tomatoes that I used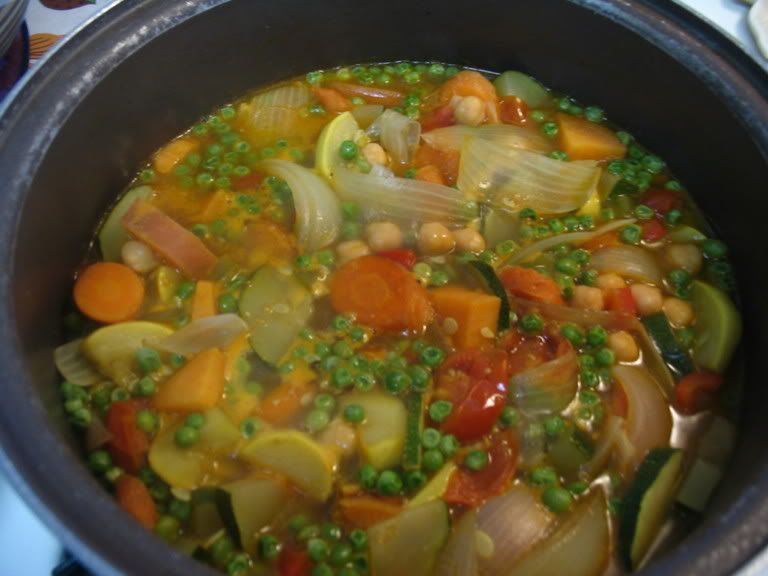 yummy scumboes



just in case you couldn't see in the last one.... :eyeroll: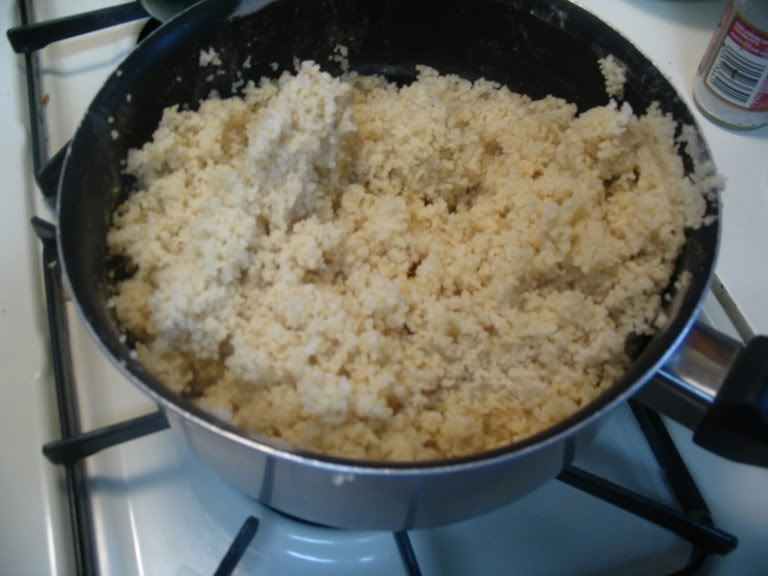 fluffy cous(cous)



my sample dish of it when it was all done, with just a little of each to see how it came out.....SO. GOOD. I had some every day until it was gone, I just couldn't get sick of it. the vegetables were delicious by themselves!!

'recipe'
1 or 2 tbsp olive oil
3 small organic carrots, sliced
1 yellow onion
zuchinni, sliced (the one I had was as big as my arm so I only used about 1/4 of it. I showed it to my boyfriend to try and intimidate him...haha LMAOnade)
1 crookneck squash, sliced
1/2 red, 1/2 green pepper
a 340g /12 oz bag of vine-ripened cherry tomatoes, cut in half
1/2 a very large sweet potato, sliced
4 cups water
1/4 teaspoon cinnamon
1/2 teaspoon curry powder (the recipe called for turmeric, but this is what I used instead. I'd try to sound creative about it but really we didnt have turmeric.)
fresh cracked black pepper
fresh ground sea salt
1 can chickpeas
1/2-1 cup frozen green peas

sautee onions and carrots in olive oil until carrots are pleasantly soft. add zuchinninniniini, squash, pepper, sweet potato, tomatoes, water, and all the spices. bring to boil and then let simmer for 20 or so minutes. add chickpeas and peas, let cok another 5 minutes. oh yeah, by this point have some couscous made. and....you're done. try and refrain from binge-eating the whole thing. good luck ;)

and my yum-fest lunch today, a pretty-much-almost-all-raw salad. guhhhh.



romaine, some collards, shredded raw zuchinni, sweet potato, and carrot. couple raisins. red onion.



and the homemade dressing, on the side as always. raw tahini, lemon juice, bragg's apple cider vinegar, slight drizzle of extra-virgin olive oil, agave nectar, curry powder, and s+p. god I love salad.


amazing what a few basic ingredients and vegetables can get you...
I made hummus too but somehow managed to lose the picture on my computer. k bye!

x-posted to veganfoodpics. don't hate...uh....lollerbate.