Made this the other night for company coming over. It filled the house with an incredible aroma that reminded me of thanksgiving at my mom's house. I would have killed for some soy ice cream to go on top. mmmmmmmm. This is the perfect thing now that the fall chill is in the air!


PEAR AND BROWN SUGAR CRISP
------------------------------------

Topping
2/3 cup flour
5 tablespoons butter, softened
3/4 cup rolled oats (instant or old-fashioned oatmeal)
1/2 cup firmly packed dark brown sugar
pinch salt

Pear Filling
6 large pears, such as Bosc or Bartlett, cored and cut into 1-inch long by 1/2-inch thick pieces*
(*I used red d'anjou and sliced them into rings. mmmmm)
1 tablespoon fresh lemon juice
2 teaspoons vanilla extract
1/3 cup light brown or regular sugar
1/2 teaspoon ground cinnamon
pinch ground cloves
4 1/2 teaspoons cornstarch

1. In a food processor, combine the flour, butter, oats, dark brown sugar, and salt. Pulse until the mixture starts to hold together, then set aside.

2. Preheat oven to 350F. In a large bowl, mix pears, lemon juice, vanilla, light brown or regular sugar, cinnamon, cloves, and cornstarch; toss to combine.

3. Pour pear mixture into an 13 x 9-inch baking dish or 6 individual ramekins. Cover with topping. Turn oven down to 325F and bake the crisp until the top is golden brown and the pears are tender, 70 to 80 minutes. Serve warm or at room temperature.

Serves 6.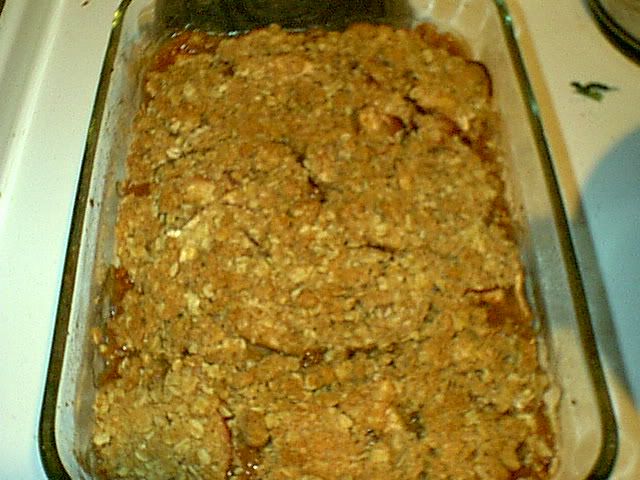 Not the best pic ever...Okay, it's crap,but it gives you an idea...