Last one for today, I promise!

Once again, from the indespensible Vegan Planet, a very light and yummy pasta dish!

FUSILLI WITH ROAST ASPARAGUS, SUNDRIED TOMATOES AND PINE NUTS
-------------------------------------------------------------

12oz thin asparagus, bottoms trimmed and cut diagonally into 2" pieces
3TB extra-virgin olive oil, plus more for drizzling
1/2c sundried tomatoes, cut into 1/4" wide strips
1lb fusilli
1-3 large garlic cloves, minced (When it comes to garlic, more is better I say)
salt and pepper
1/4c choppped fresh basil or parsley
3TB toasted pine nuts

1)Roast asparagus by tossing pieces with 1TB oil and cooking in 450F oven for 6-8 minutes. Set aside.

2)Cook fusilli in lg pot of boiling salted water until al dente

3)While pasta is cooking, heat the remaining 2TB olive oil in a large skillit over medium heat. Add garlic and cook, stirring until fragrant, about 30 seconds. Add asparagus, tomatoes and salt and pepper to taste. Reduce heat and keep warm.(I also added a healthy dash of nutritional yeast powder here as well.)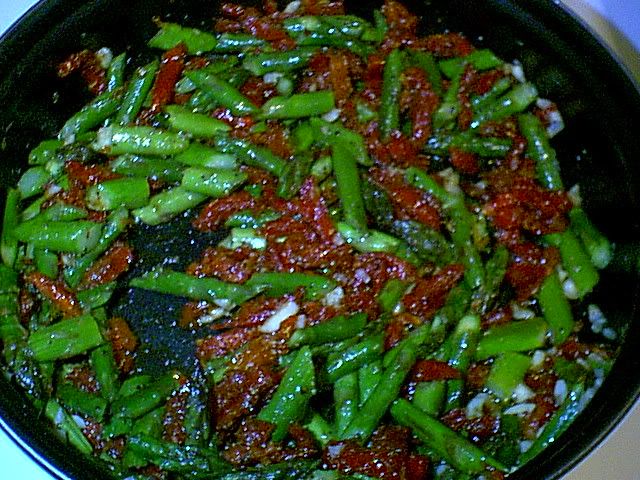 Mmmmm


4)Drain the pasta and place in a large shallow serving bowl. Add asparagus mixture, basil and pine nuts. Toss to combine, drizzle on a little more olive oil if desired and serve hot!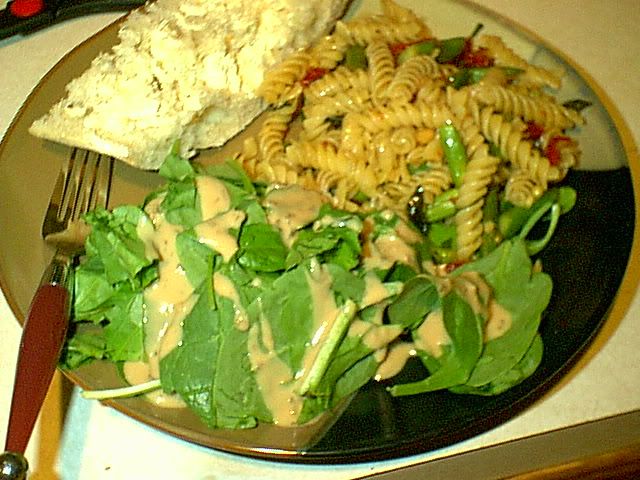 With a rather lame looking salad, lol. I was being lazy....