hi guys, made more muffins over the past 2 days. (someone take the oven away!)

they're sort of my own concoctions, so bear with the long names! :)




banana chocolate wholemeal muffins

1 1/2 cup flour
3/4 cup wholemeal flour
3 1/2 tsp baking powder
2 Tbsp brown sugar
4 Tbsp cocoa powder
1/4 tsp salt
-> sift

1cup mocha cappuccino + soymilk (with 4 satchets Equal)
1 tsp vanilla
5 bananas, mashed
-> whisk

add wet to dry.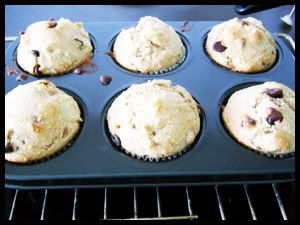 i call this healthy pineapple-raisin chip muffins.

1 cup flour
1 cup wholemeal flour
2 tablespoon brown sugar
2 tablespoon baking powder
generous amount of cinnamon powder
-> sift all.

mix in a cup of pineapples/raisins/choc chips.

another bowl:
1/2 cup soymilk
4 satchets Equal
1 tsp vanilla essence
1 tablespoon cornstarch
1 tsp baking powder
->whisk

mix wet with dry. makes 8 muffins.

seriously this was the tastiest batter ive tried so far.. the combination of sweet wholemeal with cinnamon is just heavenly.