So I whipped up an amaretto cheesecake like I've been emoing about.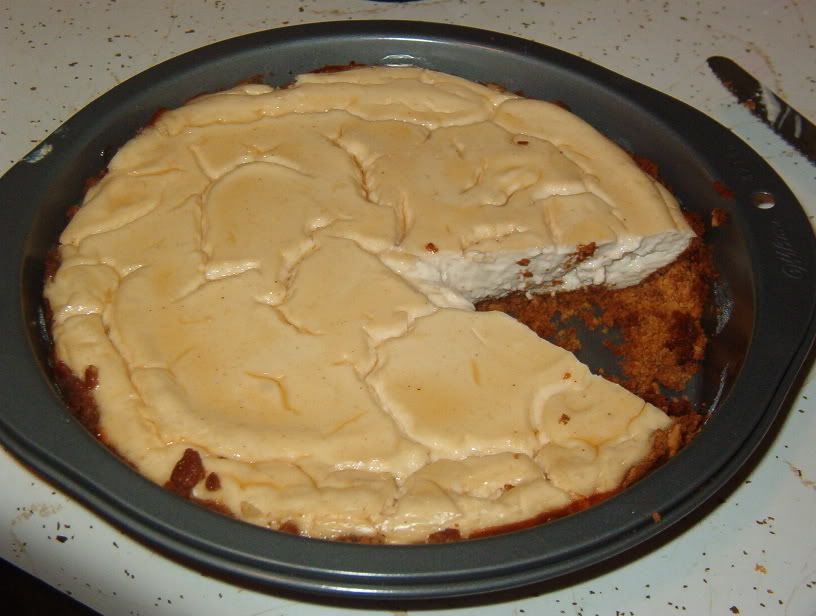 Sort of eyeballed the measurements here.

Oven 350F

Crust:

-one sleeve graham crackers (about 9-10 sheets; both Nabisco and Keebler original varieties are free of honey)
-2-3 tablespoons melted margarine
-dash of granulated sweetener

Put your graham crackers in a freezer bag and beat the hell out of them with a rolling pin. Mix with your sweetener and melted margarine and press into your pie pan; bake 10 minutes.

Filling:

-one 12.3 oz package extra firm silken tofu (drain well)
-one tub Tofutti cream cheese
-between 1/3 and 1/2 tub Tofutti sour supreme
-approximately 2/3 cup granulated sweetener* (or to taste)
-2 to 3 shots amaretto liqueur (I used DiSaronno)
-couple dashes cinnamon
-vanilla to taste

Throw your first three ingredients into the blender and puree. Add sweetener and liqueur and blend. The last two ingredients are optional. If you think they'll overpower the amaretto taste, omit them in favor of anise or another complementary flavor to amaretto. Well-chopped pecans would also be a nice addition. Pour your filling into the crust and bake about half an hour, give or take. Mine was very wobbly in the center but at least uniformly set on top. Let it cool on top of the stove until the pan is lukewarm and can be moved with bare hands. Refrigerate until completely chilled and set.

This came out very creamy and very cheesecakey, like incredibly realistic, and passed one vegan and two omnivore taste tests. I did cut the test slice before it was totally cooled, so it was just barely set enough to hold shape. By morning it should be perfect.

It's a little crackly on the top, but that gives it character, yo. If yours turns out like this and you don't like its appearance, try stewing some fresh fruit in amaretto, a little sugar, and a bit of cornstarch on the stovetop and piling. I'm going to attempt bananas or something next week since that's really all my mom likes that would go with this :-/ Today I just whisked a little sweetener into a few shots of liqueur and poured it on top.

The sweetener I used was Splenda...yeah, it's not the best for you, but since this was a test run for my mom's birthday I thought it would be nice to make it friendly for her Weight Watchers plan. Dry sweetener would be the best choice in any case, since there's already lots of moisture in the recipe, and turbinado would contribute to a nice light golden color.