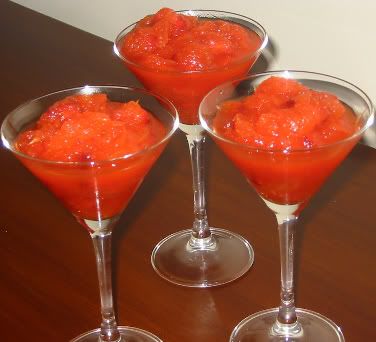 These were so yum and refreshing! They would make yummo daquiris as well :)I got the recipe from fooddownunder.com. It worked perfectly. As u can c I served mine in martini glasses. If I had more time I would have garnished those with strawberries but we were in a hurry to eat!

INGREDIENTS:
2 cups strawberrys, hulled and chopped finely
1 1/2 cups sugar
1 cup water
zest and juice of 2 oranges
zest and juice of 2 lemons

In a bowl stir berries with 1/2 cup of the sugar. Cover with plastic wrap and let stand for 4 hours. Stir occasionally until there is a lot of juice and the sugar seems dissolved.

In saucepan put the rest of the sugar with the water and citrus zests only. Bring to boil and stir until sugar dissolves.
Let syrup cool.
Strain citrus syrup into bowl. Strain the strawberry juice into the syrup and stir in the orange and lemon juices.
In food processor (i just used blender) combine 1/3 of the strawberries with 1/2 cup of the syrup and puree until smooth. Stir the puree into the syrup mix and freeze until ice crystals form around edges. Stir them into the liquid centre and return to freezer. Continue to stir and freeze until the liquid seems like soft snow, then add remaining strawberries and freeze until just firm but not entirely solid.
mmmmm!!!! Makes a fairly large amount!!!