I'm not the biggest soup fan but this was really good! I copied the recipe down from a magazine somewhere at work and veganised it.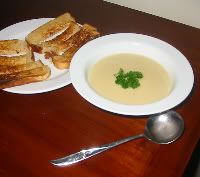 INGREDIENTS
2 tablespoons vegan butter
Half a cauliflower
1 Brown onion
1 litre fake chicken stock or veggie stock
salt n white pepper to taste

In large pan, melt butter and add salt n pepper. On lowest heat add the finely chopped onion and sweat until soft. Then add roughly chopped cauliflower and sweat for 5 min.
Add stock and bring to the boil, simmering until cauliflower breaks apart easily.
Blend in blender.
Easy! And just make toast soldiers 2 go with!