I made an awesome big fruit tart for my friend's birthday last night. Pics and recipe behind the cut!


big one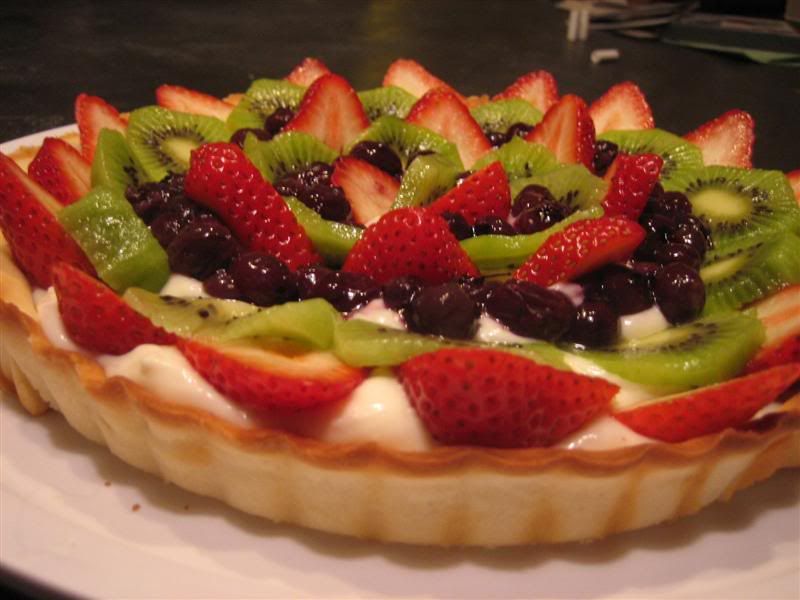 baby ones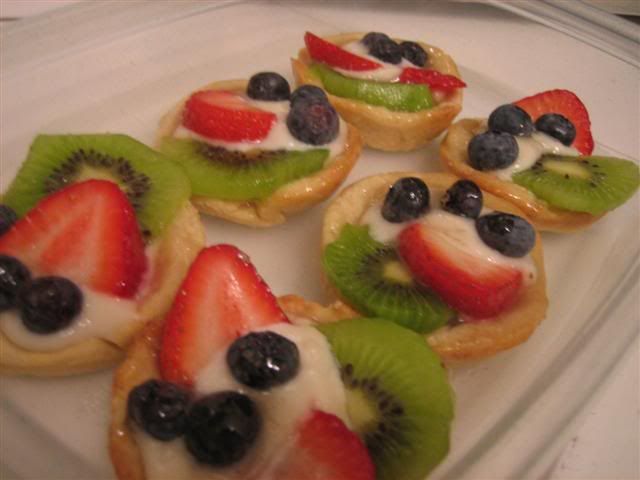 Crust:
1 1/2 c flour
1/2 tsp salt
2 tbsp cane sugar
4 tbsp confectioner's sugar
1/2 c melted butter substitute (I used earth balance buttery sticks...I'm not sure how well a margarine would work, but I've used just 1/2 c vegetable oil before too and that worked, but made the crust a little less flaky.)
2 tbsp soy milk
dash of cinnamon (optional)

Mix dry ingredients, then add liquid ingredients and blend together with a fork. sometimes it seems like it needs a little more soy milk so I'll add another teaspoon or so, but don't use too much or the consistency will be too much like cookie dough!
I rolled the dough to about 1/8'' and put it in the big tart pan. Then I used the extra dough for smaller tarts. If you don't have small tart pans you can use a well-oiled muffin tin and just push circles of dough into the bottom of each cup. Bake at 425 degrees for about 7 minutes, or until they start to brown.

Filling:
8 oz vegan cream cheese (I used tofutti)
1 tsp vanilla
1 tbsp fresh lemon juice
dash of nutmeg
1 tbsp confectioner's sugar
1/2 c granulated sugar

Beat cream cheese and sugar in a large bown until creamy. Then beat in the lemon juice, nutmeg, and vanilla. Then I put the bowl in the refridgerator to firm up while I made the glaze and sliced the fruit....

Apricot Glaze:
1/8 c apricot preserves
a little bit of water. I just added it by the tablespoon until it was the right consistency to be able to brush over the tarts.

Stir the preserves and water in a small saucepan over medium heat until it comes to a boil. Then brush the glaze over the cooled tart shells. Sometimes I skip the glaze but it makes it shiny and a little prettier. Tastes totally fine without it though.


THEN FINALLY, take the filling out of the fridge and drop it by the tablespoon into the middle of each shell. Then arrange the sliced fruit on top of the filling. You can brush the glaze over the whole tart when it's finally assembled to make it nice and shiny, but that also adds quite a bit of sweetness. It's up to you!