A local Italian bakery makes little cookies that are shaped like peaches. They have a creamy filling and are flavoured with brandy and dipped in coloured sugar. Sadly, they aren't vegan....

Until today. My mother found a recipe, veganised it, and presented me with a tray of vegan peach cookies. My mom rocks.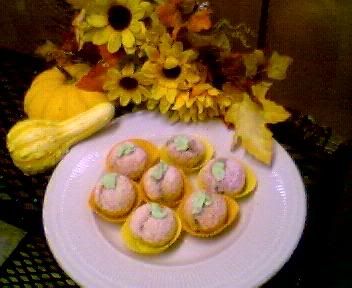 PEACH COOKIES

Ingredients

1 cup sugar
2/4 cup vegetable oil
1/2 cup soymilk
2 egg equivalents (Kings Mill for example)
3/4 tsp baking powder
1/2 tsp vanilla extract
3 2/3 cups all-purpose flour
1 cup apricot preserves (or marmalade)
1/4 cup chopped almonds
(optional; 3 ounces fake cream cheese, softened)
(optional; 2 tablespoons instant tea powder)
3 1/2 tablespoons brandy (or a bit of brandy flavoured extract)
3/4 teaspoon ground cinnamon
1/4 cup red decorator sugar & 1/2 cup orange decorator sugar OR plain sugar and a bit of red and yellow food colouring

Directions

Preheat oven to 325 degrees F.

Combine sugar, oil, soymilk, fake eggs, baking powder, and vanilla in large bowl. Blend in enough flour to make a soft dough.

Roll into walnut-sized balls and place on ungreased cookie sheets.

Bake for ten minutes. Cookies will be pale. Remove to rack to cool.

Hollow out cookie centre. Reserve crumbs. Combine two cups of crumbs, preserves, almonds, brandy, cinnamon, and optional cream cheese and tea powder.

Fill cookies with crumb mixture. Press two cookies together to form peach.

Brush lightly with brandy or water and dip one spot in the red sugar for blesh and roll entire cookie in orange sugar. OR put a few drops of brandy extract in a bowl of water, dip the cookies into the bowl, and then roll the cookies in granulated sugar which has a drop or so each of red and yellow food colouring it it.

Finish by topping each one with a leaf made from icing.

This is modified from a recipe my mom found at http://recipes.allrecipes.com

Notes:

- The original recipe called for baking the cookies for 15 to 20 minutes. This caused our first batch to burn, so we had to shorten the baking time.

- We ommitted the cream cheese and the instant tea powder, which is why I have listed them as optional ingredients. I don't know what instant tea powder is or if a vegan one is available.