Made Thanksgiving dinner last night with a friend so I'd have leftovers to take to the family Thanksgiving today.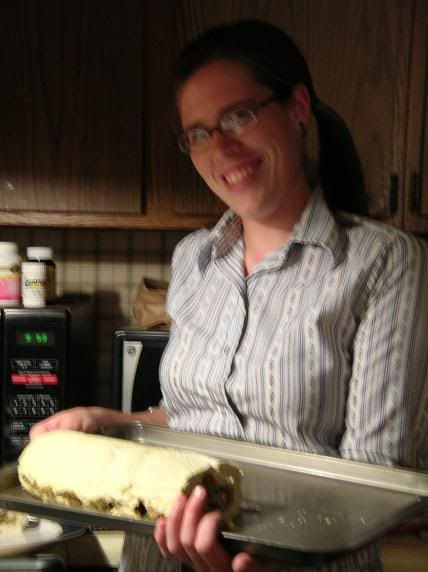 Homemade croutons:
Dice approximately 6 cups of bread into large chunks. Pour olive oil over them, shake on a good amount of basil, then twice as much oregano. Bake at whatever temperature the oven is at (I started at 250, then raised it to 400 for something else) until the croutons start to brown and are very crunchy. (Maybe 15-30 minutes? Depending on the temperature you cook at)


Chicago Diner Tofu Roulade
Stuffing:
1/2 stick margarine
1 small onion, diced
1 tsp minced garlic
2 stalks celery, diced
2 tsp sage
2 tsp thyme
1 tsp salt
1/2 tsp pepper
5-6 c croutons
2 tbsp chopped parsley
2-3 c veggie stock

Melt margarine in a large pot. Add the onions, garlic, celery, and herbs. Add veggie stock and cook 5-8 minutes over medium heat. Season with salt and pepper. Add croutons and parsley, cook 1-2 minutes more. Check to see if you need more water. Remove from heat and cool. Should be somewhat stiff.

Roulade:
3 lbs tofu (it wasn't specific, I used soft water packed cause everything else was sold out)
1/2 c cornstarch
1 tbsp agar
1.5 tsp salt
1 tbsp parsley
1.5 tbsp onion powder
1.5 tbsp garlic powder
3 tbsp nutritional yeast

Drain the tofu and mash with roulade ingredientes. Puree in food processor, season to taste. Will be thick. Place 12-14" sheet of plastic wrap on the table. Pour tofu on and pat down with spatula. Press it so it is a thick, even, approximately 5x10" rectangle.

Preheat oven to 350 degrees F. Place cooled stuffing down the middle of the tofu and fold both sides up over the stuffing, twisting the plastic wrap at the ends. The plastic will not melt. Wrap the tofu in foil and twist the ends. Place tofu roll on a baking sheet, bake 1-1.25 hours. Let it set, then unwrap it and slice it. Serve with gravy.




Chicago Diner Gravy

Spices:
2.5 c nutritional yeast
1/3 c parsley
1.5 tbsp salt
1.5 tbsp dill weed
1 tsp rosemary
2.5 tbsp celery seed
2.5 tbsp onion powder
2 tbsp basil
2 tbsp oregano
2 tbsp thyme

Mix all the spices and set aside 1/4 c, the save the rest for the next time you make gravy.

Base:
4 c water
1/3 c tamari
1/4 c spices

Bring base ingredients to a high simmer.

Roux:
1/3 c oil
1/3 c flour

Heat oil in saucepan, gently whisk in flour, stirring constantly until there is a nutty aroma. Gradually whisk roux into the base and cook to desired thickness. Pepper to taste.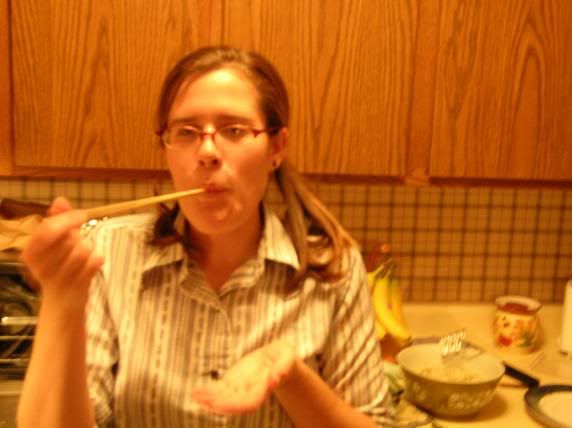 (Checking the pepper!)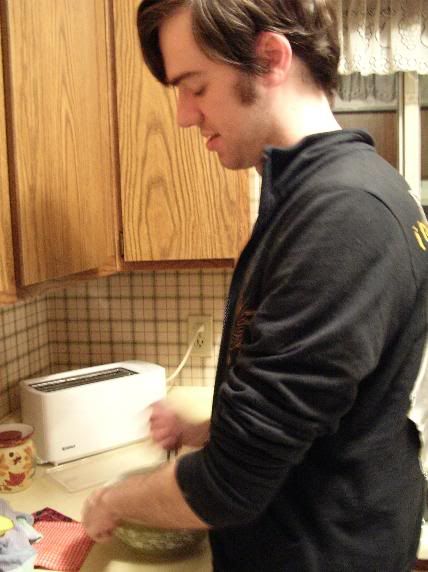 I didn't try too hard with the potatoes. Boil some red skinned potatoes, quartered, mash with soymilk and margarine. Add garlic and pepper to taste.





Chocolate Cherry Bread Pudding from Silk

4.5 c cubed bread
1/3 c dried, unsweetened cherries
1/2 c carob/chocolate chips
equiv 3 eggs egg replacer
3 c soymilk
1/2 c sugar (or equivalent)
2 tsp vanilla
1/2 c chopped pecans
1 tbsp light brown sugar

Heat oven to 350 degrees F, place 3 cups bread cubes in a greased 9x13 pan (directions said 8x8, but I may have had too much bread. It still worked out for me.) Tuck cherries between the bread pieces and sprinkle with carob chips. Top w/ remaining bread.

Whisk egg replacer, soymilk, sugar, and vanilla into a large bowl. Pour the liquid ovre the bread and let sit 15-20 minutes. Press down on the bread a few times to wet the tops of the cubes.

Scatter the pecans evenly over the pudding and sprinkle with brown sugar. Bake 50-60 minutes or until puffed, golden brown, and firm in the center. Serve warm with maple caramel sauce.




2 tbsp margarine
1/4 c brown sugar
1/4 c maple syrup
1/4 c light corn syrup
1/3 c soymilk + 3-4 tbsp

In a small sauce pan, reduce the margarine, sugar, maple syrup, and corn syrup until it comes to a boil. Reduce heat and simmer for 5 minutes. Remove from heat, whisk in 1/3 cups soy milk, bring back to simmer, cook 5 more minutes. Whisk in 3-4 tablespoons soymilk and serve warm. (When I made it, it was very liquidy, so we had dinner, took a break to let the food digest, and when we came back, it was nice and thick. So unless I messed up somewhere, you may not want to serve it warm.)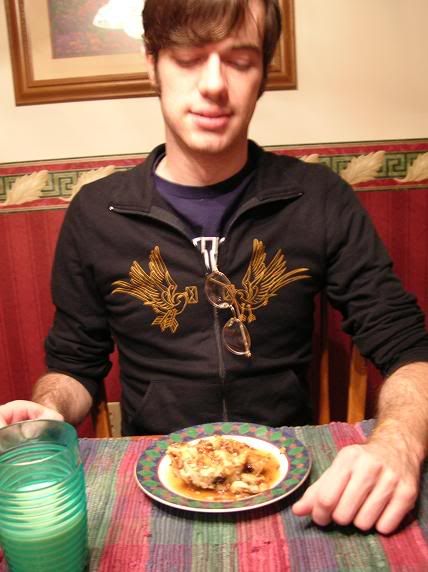 Here's my friend's reaction to the bread pudding: "Oh... oh... oh, God, oh.... oh.... I just got a cherry." I was considering changing the name to better than sex pudding :)


All in all, the gravy, stuffing, and dessert were incredible, I was very happy with them all. The roulade needed a bit more flavor and the texture was a little weird, next time I might roll it thinner so it bakes more, or maybe just bake it longer. I was thinking of just mashing it rather than pureeing it, but I'm not sure if it would solidify as well that way. And stuff it less so the sides actually touch.

But all in all, I say it was good! I hope you all had some wonderful food, too!