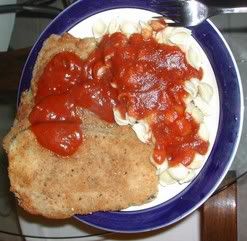 (i fucked up step 3 of the recipe before, i'm extremely sorry to for this)

Ingredients

- oil for deep frying
- 2 cups wholemeal flour
- 2 teaspoons salt (extra salt for eggplant thingo)
- 2 teaspoons black pepper
- cold water for batter
- 3 large eggplants - cut into 1.25 cm slices
- 1 cup soy milk
- 2 cups breadcrumbs

1. Take the extra salt and sprinkle generously on the eggplant slices. Leave it for 20 minutes, then wash it off and dry the slices. This takes out the bitterness or something.
2. Combine flour, salt, pepper and cold water to form a medium thick batter.
3. Dip eggplant in batter, dip in milk, roll in bread breadcrumbs.
4. Fry until golden on both sides, remove, drain.
5. Serve with a tomato based pasta sauce.

This recipe serves 4. Make sure you don't cut the eggplant slices too think or you'll end up with uncooked eggplant.