here is the sugar cookie recipe i used in my previous post! and some chocochip business, too!




4.5 cups unbleached white flour
2 teaspoons baking powder
1 cup non-hydrogenated vegan margarine (i used earth balance sticks)
2 cups sugar
1 tablespoon powdered egg replacer mixed with 2 tablespoons water
2 teaspoons vanilla or 1 teaspoon almond extract

parchment paper

1. sift together flour and baking powder into a medium bowl; set aside.

2. in a large mixing bowl, cream together margarine and sugar. add egg replacer and vanilla and beat until smooth. add flour mixture and mix to form a stiff dough. (mine was way too crumbly and i had to add about 1/4 cup soymilk to get it to be the right consistancy. you may have to do the same for yours, just eyeball it.) form dough into two balls, flatten into disks, wrap in waxed paper and chill for at least 30 minutes or until ready to make cookies.

3. preheat oven to 375 degrees. line 2 baking sheets with parchment.

4. lightly dust a work surface with flour or sifted powdered sugar. with a rolling pin, roll out 1 dough disk to about 1/4 inch thickness. don't roll too thin. using cookie cutters, cut cookies into desired shapes. gather scraps, set aside. with a spatula, transfer cookies to 1 prepared baking sheet, placing at least 1 inch apart. bake in top third of oven for 10 to 12 minutes (i did 8 minutes for softer cookies), or until lightly browned. remove, put on rack, allow to cool completely.

5. while first batch is baking, repeat rolling and cutting second dough disk, and place cookies on second prepared sheet. when first batch of cookies are done, bake second batch. gather scraps from both batches into a ball and repeat rolling and cutting. place on baking sheet from first batch of cookies. (make sure sheet has cooled.) when the second batch comes out of the oven, bake the remaining cookies.



frosting!


6 tablespoons non-hydrogenated vegan margarine
3 cups sifted powdered sugar
1/2 teaspoon vanilla (or more to taste. or almond extract!)
1 tablespoon soymilk, or more as needed
food color as desired.


cream margarine and sugar together, beat in vanilla and soymilk to reach desired consistancy. divide into smaller bowls and color as desired.





-------------------------

i also made these: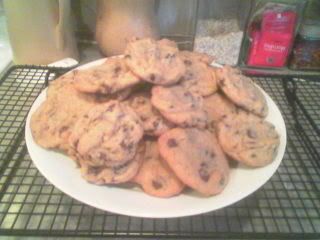 1 cup softened soy margarine
1/2 cup brown sugar
1 cup sugar
1/4 cup soy milk
1 teaspoon vanilla
2 1/4 cups flour
1 teaspoon baking soda
12 ounces vegan chocolate chips


preheat oven to 350 degrees.

in a large bowl, mix the margarine, sugar, and brown sugar until its light and fluffy. slowly stir in the soy milk and then add the vanilla to make a creamy mixture.

in a separate bowl, combine flour and baking soda. add this dry mixture to the creamy mixture and stir well. fold in chocolate chips.

drop small spoonfulls onto non-stick cookie sheets (or parchment paper, that's what i used) and bake for 8 to 10 minutes.


THESE ARE AMAZING!





if i get around to making the almond raspberry spritz, i'll post those as well.