This is the cake on page 215 of Vegan With a Vengeance, with the frosting from page 227.
I'll post the recipe if
isachandra Okays it, otherwise, buy this book!

Just finished frosting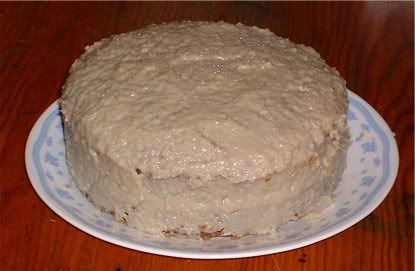 Insides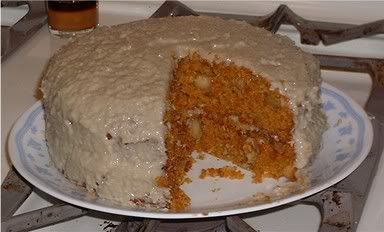 My 3 year old niece enjoying the first slice. You know it's good if she liked it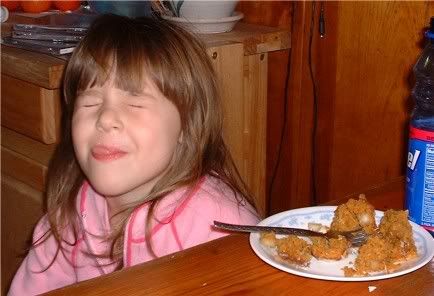 This is absolutely THE best carrot cake I have ever tasted. I am in love with it. I'm going to make it anytime I have to impress someone. It is absolutely divine. My cat was even jealous of the slice I was just eating...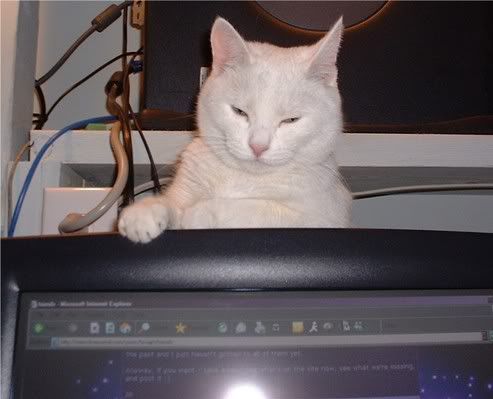 Recipe as copied from the book:

2 1/3 cups all purpose flour
1 T baking powder
1 tsp baking soda
3/4 tsp salt
2 tsp ground cinnamon
1/2 tsp ground or freshly grated nutmeg
1 cup pineapple juice
1/2 cup canola oil
3/4 cup sugar
1/2 cup pure maple syrup
2 tsp vanilla extract
1 cup macadamia nuts, roughly chopped
1/4 cup crystallized ginger, chopped
1 cup unsweetened shredded coconut
2 cups carrots, grated

Preheat oven to 350 F. Have ready 2 8 inch round springform cake pans, lightly greased. Alternatively, this could be made in a 9x13 baking pan and cut in half lengthwise to create 2 layers or just iced as one layer.
In a large mixing bowl sift together the flour, baking powder, baking soda, salt, and ground spices.
In a separate large mixing bowl, mix together the pineapple, oil, sugar, maple syrup, and vanilla. Add the dry ingredients to the wet in batches, and combine well with a hand mixer or strong fork. Fold in the macadamias, ginger, coconut, and carrots.
Divide the batter evenly between the 2 round cake pans, or spread in the rectangular pan, and bake for 40-45 minutes. Let cool in pans. Remove from pans and put a layer of coconut icing between the layers, and another layer of coconut icing on top; I like to leave the sides free of frosting because it looks pretty.