I made this for dinner last night, and it was fab!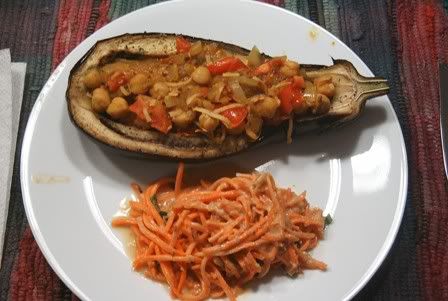 Mango Chutney Carrot Slaw
1. In a food processor, combine 3 tbsp mango chutney, 2 tbsp peanut butter, and 1 tbsp water until smooth.
2. Put the dressing over chopped carrots. Add peanuts and chopped ciltrano, if desired.

Curried Vegetables in Eggplant Boats
1. Preheat oven to 450F.
2. Cut eggplants in half, brush both sides with olive oil. Score an X the skin of the eggplant with a knife. Place eggplants flesh-side-down in a roasting pan, filled with 1/8" water.
3. Bake eggplants 18-25 minutes. Remove from oven, and when cool enough, remove flesh from skins (leaving a 1/4" ledge) with a knife and melon baller.
5. In a large skillet, place 1 tbsp olive oil and 2 tbsp mustard seeds. Turn heat to high, and wait for the seeds to start popping. Once you hear popping, remove from heat until seeds finish popping. Return to heat with 2 c chopped onions and extra olive oil to prevent sticking. Brown onions and mustard seeds.
6. Add 15 ozs chickpeas, 15 ozs chopped tomatoes, the flesh of the eggplants, and 2 tbsp curry powder. Turn with spatula until well heated.
7. Fill eggplant boats with curried vegetables and serve.

Source: Adapted from The New Vegan Cookbook.