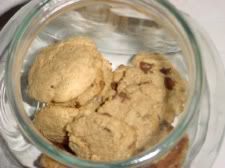 brymbyl posted this recipe here a while back. I made them yesterday with some modifications (in parentheses) and they were fantastic! one of the best cookies I've made or eaten. I did a lot of the latter last night.

important note: these should be eaten with a glass of soymilk 'cause they're just perfect.


1/2 c canola or other light oil
1/2 c nut butter (I used part cashew and part peanut butter, both natural)
1 c sucanat or vegan brown sugar
1 t egg replacer powder
2 c whole wheat pastry flour (I used half whole wheat/half all-purpose)
3/4 t baking soda
1/4 t salt
1/4 t cinnamon
1/8 t nutmeg
1/8 t ground cardamom (I didn't have any of this and eyeballed the other two)
about 1/4 c coconut milk or soymilk with 1 T extra oil (I used soymilk)

Preheat oven to 375F. Combine oil, nut butter, and sugar in one bowl; combine egg replacer, flour, baking soda, salt, and spices in the other. Combine two bowls and mix in chocolate chips. Add soymilk until appropriate texture is reached. Form into cookies on greased baking sheet. Bake 10 - 12 minutes.

Makes about 18 large cookies.




as you can see, I also added vegan chocolate chips. I didn't measure, but it was maybe a half-cup, give or take. delicious! his suggested variations sound awesome, too. thanks,
brymbyl!