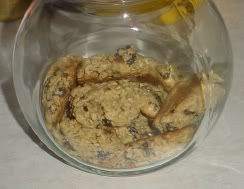 I'm making oatmeal raisin cookies from a recipe I found in the memories. I bought some maple syrup when I went to the grocery store last, so they don't have any refined sugars and are made with whole wheat pastry flour. the recipe is for chocolate chip cookies, so obviously I adapted it some. only by replacing the chocolate chips with raisins, though.




"The Ultimate Chocolate Chip Cookie" from The Vegan Sourcebook.

Ingredients:

1 1/2 cups quick-cooking rolled oats (not instant)

1 cup whole wheat pastry flour

1 cup walnuts, lightly toasted and chopped

1 cup semisweet vegan chocolate chips (or raisins)

1/4 teaspoon salt

1/4 teaspoon baking soda

1/2 cup canola oil

1/2 cup pure maple syrup

2 tablespoons water

2 teaspoons vanilla extract

Directions:

Preheat oven to 350F. Line two baking sheets with parchment paper (I just sprayed mine). Mix dry ingredients in one bowl. Whisk wet indredients together in another small bowl, beating vigorously with a whisk until emulsified. Stir wet ingredients into dry ingredients, mixing until everything is moistened. Let sit five minutes. Drop slightly rounded tablespoons of dough onto baking sheets, about 1 inch apart. Bake one sheet at a time on the center rack of oven until cookies are slightly brown, about 18 minutes. Cool, and eat.


note: these only took about ten minutes in my oven, which is a little hot anyway, but keep an eye out. they smell like pancakes!