I made this for the second time tonight and it is SO tasty! I paired it with a modified mango lassi...mmm...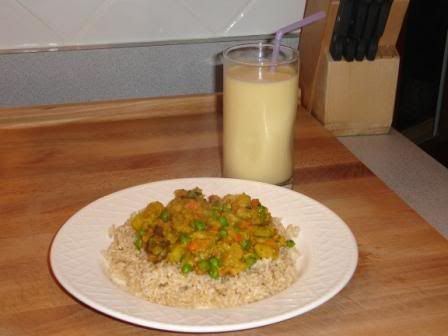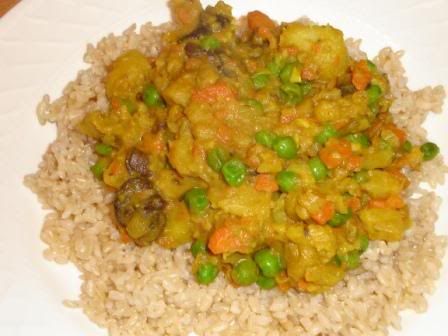 Creamy Curried Veggies from How it all Vegan!

1 large onion, sliced
2-6 cloves garlic, minced
1-3 large carrots, diced
2 Tbsp. olive oil
1 medium potato, cubed
1 1/2 cup cauliflower florets, sliced
6-8 mushrooms, sliced
1 Tbsp. curry powder
1/2 tsp. cumin
1/2 tsp. turmeric
pinch of cayenne pepper
1 cup coconut milk or soy milk (I've used both and it is MUCH better with coconut milk)
1 cup peas
3 Tbsp. Braggs or soy sauce

In a large saucepan, saute the onions, garlic, and carrots in oil on medium-high heat until the onions become translucent. Add the vegetables, curry, cumin, turmeric, and cayenne, stirring often so they don't stick to the pan, cooking for 2-4 minutes. Add the milk, cover, and reduce the heat to medium-low. Simmer for 10-20 minutes, stirring ocassionally, until the potatoes can be pierced easily with a fork. Stir in the peas and Braggs, and cook uncovered on medium-high heat stirring constantly until the liquid has thickened. Serve over rice or noodles (I ate it with short-grain brown rice).

My Modified Mango Lassi
Vanilla or plain yogurt
Mango puree or fresh mango
Coconut milk
Ice

For two tall glasses of mango lassi, I plopped three small Silk containers of vanilla yogurt into the blender. Then I added...maybe...1/3 cup of coconut milk and a looong pour of mango puree. Then I thought it could use some crunchiness, so I added maybe 10 ice cubes. This was a really impromptu concoction, so I don't have definite measurements. Mango lassi doesn't usually have coconut milk and usually has a splash of rose water, but I didn't have that. It was REALLY tasty! I was thinking it might be good with a splash of Malibu rum, too, but I didn't have any :)

I hope you enjoy!