last night I made spinach pitas by sauteeing some minced garlic and onions in olive oil, adding some oregano and thyme, and then some spinach that I needed to use up. I had toasted some pine nuts before starting to saute anything and added those last. then you stuff pita halves with the spinach mixture and broil them until the edges of the pitas are golden and crispy. this idea is from
weizenwind and can be found here in the memories (it's in the comments). they're super quick and you probably already have the ingredients on hand (always a plus)!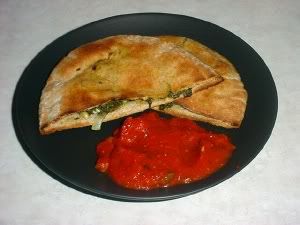 newman's own "sockarooni" made for a tasty dipping sauce (I even put some flax oil in mine since the sauce wasn't heated- I also sprinkled nutritional yeast inside of my pita). these were so simple to make and had a really wonderful flavor- I'll definitely make them again. yum!