last night I made pesto penne, sesame asparagus with garlic and balsamic vinegar, and whole wheat dinner rolls. we both really enjoyed this- everything was super tasty.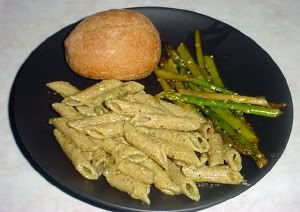 pesto

1/3 C pine nuts
2/3 C olive oil
5 cloves garlic (I was a bit more generous than this)
1/3 C nutritional yeast
1 bunch fresh basil
1 T capers
salt and pepper to taste

toast pine nuts in a dry skillet until just brown. gradually process all ingredients (except salt and pepper) in a food processor or blender until smooth. season and toss with pasta (that's been prepared al dente, of course).


sesame asparagus*

one bunch of asparagus
balsamic vinegar
olive oil
garlic, minced
sesame seeds
salt and pepper to taste

mix all ingredients but asparagus in a bowl. toss with asparagus until well coated. place in broiler for 10-15 minutes. season to taste.

*no measurements here because I just threw it together- it's easy peasy to eyeball, though. just add things according to your liking.