this is one of my all time favorites, and even if you dont like these veggies you can use this sauce with practically anything, its awesome, i promise!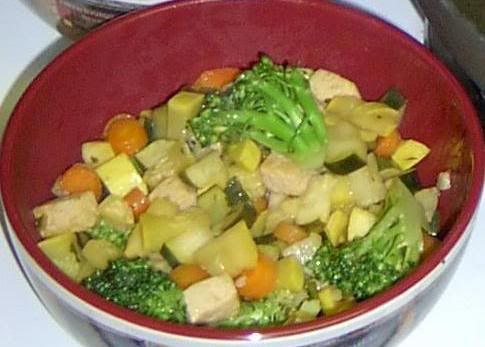 cilantro lime soy sauce:

1 clove garlic
2 fresh thai bird chilies and/or
1 teaspoon ground chili paste, or to taste
1 inch piece of ginger, peeled and minced
2 tablespoons finely chopped fresh cilantro
1/4 cup soy sauce
2 tablespoons fresh lime juice with pulp
3 tablespoons water
2 tablespoons of sugar

place garlic, chilies, chili paste, and ginger in mortar and pound in to a paste. transfer paste in to a jar with a tight lid and add remaining ingredients. mix well until sugar is dissolved. may be stored in fridge up to 2 weeks.

when i make this i omit all the chilies and instead use a teaspoon of "chili sauce with garlic" (the only asian chili i could find in this hick town)and it isnt spicy at all. i also use cilantro and ginger that comes in tubes to make life easier. i dont use the mortar either i just combine them all in the jar and it works out fine. This recipe is from "The Best of Vietnamese and Thai Cooking" by Mai Pham (not a vegan book, fyi).

Stirfry: (obviously you could use this sauce however you want, but this is how i usually use it.)

1 block tofu
1/2 cup carrot
2 yellow squash
2 zucchini
1/2 cup broccoli crowns

In a frying pan i use 1 block of cubed tofu and fry over medium heat until golden, then add about 1/2 cup chopped carrots and 1/4 of the sauce and cook for 3 more min. Then add 2 diced yellow squash and 2 diced zucchini and and another 1/4 of the sauce and fry for maybe 5 min more. Then add 1/2 cup chopped broccoli and another 1/4 of the sauce and fry for 3 more min. Drain out the liquid and serve with the remaining 1/4 of the sauce as an optional topping. Even my supper picky hubby scarfs this down.