I made seitan for the first time ever last week. with it, seitan alla cacciatore!






fresh seitan, pre-intothepotforsimmering.




into the pot for simmering.




coated in a flour/nutritional yeast/ground black pepper mixture.




fryin'.




saucin'.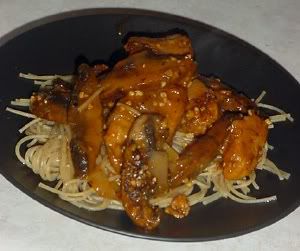 over whole-wheat spaghetti.




close-up, because it looked as delicious as it tasted.


I used the seitan recipe from vegan with a vengeance and the cacciatore recipe is from vegan-food.net. I served it with garlic bread (I used rudi's organic european multi-grain). asparagus would be great with this, too. oh, it was so amazing. my [italian] omnivore couldn't get over it! I felt pretty fancy having made anything "alla cacciatore" and was so proud of the seitan itself. yum!