I say Picnic-style because these sandwiches travel horribly if assembled before the trip. You can easily keep the ingredients separate, though, depending on how many small Tupperware containers you own. I have one of these. My dad got it for me for my birthday! Anyway, I give you

Ingredients/Directions:

Salad:
Large Elbow Macaroni
Veganaise
Yummy Pickled Things (I used chopped up hamburger dill slices, sun dried tomatoes and sliced black olives)
Spike Seasoning (to taste)
Black Pepper (to taste)


Cook macaroni. Do dishes while you wait.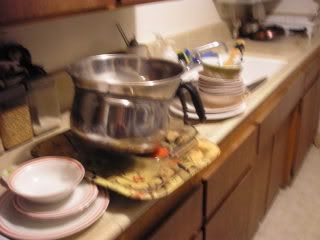 Drain. Allow to cool for 10-15 minutes. Add other ingredients. Chill.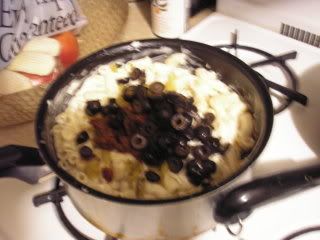 Sandwiches:
1/2 Package Extra Firm Tofu, drained and cut into 4 slabs (1/4-1/2" thick)
Olive Oil
4-5 Garlic Cloves, chopped
1 can Diced Tomatoes. halfway drained (keep 1/2 juice)
1 can Spinach, drained
Italian Seasoning (to taste)
4 slices whole wheat/rolled oat toast

Sauté tofu slabs until golden brown, set aside.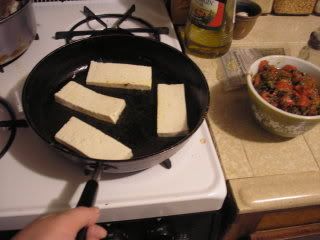 In the same pan, sauté the garlic.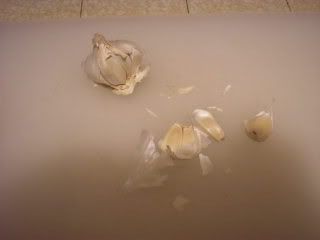 Add other ingredients, simmer 10 minutes or until hot.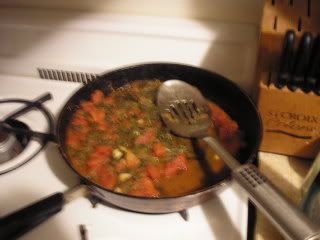 Assembling sandwiches: Use two slabs of tofu for each sandwich, top with desired amount of spinach/tomato mixture. Add second slice of toast. Serve with chips and macaroni salad.